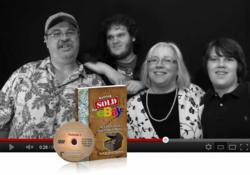 After fourteen years and over 36,000 sales they have developed a successful system that runs smoothly and efficiently
Seaford, DE (PRWEB) February 21, 2012
For many in America the past few years have been filled with economic uncertainty. Foreclosures and a floundering labor market continue to trouble many, even today. An opportunity to make a sustainable income from the comfort of one's home seems very attractive. Estate Auctions, Inc owners Norb and Marie Novocin, with the help of eBay, have been doing exactly that for the past fourteen years. This simple homeschooling Delaware family has seen a stunning boom in business during the past two years. "As the economy got tougher our sales got better. We began to have numerous people call us to sell their antiques and rare collectibles on eBay. To our surprise we have been getting top dollar, in fact we have seen our sales in 2011 end 60% higher than expected. We are now generating a six figure annual income from our home and storage shed." says Norb Novocin.
Norb and Marie, with the help of their two teenage sons, Judah and Casey, run the operation. Norb attends auctions and takes consignments from clients, Judah handles all the photo work, Mom (Marie) makes sure everything gets to where it's going, and Casey diligently keeps the coffee fresh. They handle all of this and still manage the normal functions of a homeschooling family. After fourteen years and over 36,000 sales they have developed a successful system that runs smoothly and efficiently. The eBay ID is EstateAuctionsInc and by looking at the 100% feedback rating (over 15,000 now) it is clear that customer service is at the top of the list for the Novocins. "We have developed many wonderful relationships through eBay. Our customers are amazing. From time to time we do have a couple of harder to handle situations, such as when a client may not be that friendly to deal with or rarely coming across a dishonest client, but we stick to the high road and try to serve everyone with a grateful heart." says Marie Novocin.
As a result of their continued success the Novocin family considered expanding the family business. They were urged by friends and family to write a book about their many experiences, such as when they bought a crate full of military electronics for $244 and the next thing they knew, they found themselves selling sensitive aircraft communications parts once used by the U.S. Air Force. Newsweek magazine found the parts on eBay, wrote and released a story about them, which got picked up by over 18,000 news sources. This story can still be found on the internet today. Soon, Norb and his family encountered armed agents at their door inquiring about the parts. After signing non-disclosure documents with the U.S. Government a secret settlement was reached. Another amazing Treasure Tale (as the Novocins call them) is 16 year old Judah's favorite eBay adventure to this point. At a small farm auction they ended up buying a Norman Rockwell print, hand signed by Rockwell himself, as well as Brooks Robinson for just $40.00. When they researched it, they talked to the Rockwell museum, who excitedly informed them that they had never seen this one before, they asked if they could borrow it to display in their museum, which they did for over 6 months. Much to the surprise of everyone, they appraised it and yes, the Novocins eventually sold it on eBay bringing an amazing $6,900. These amazing tales are not isolated sales; they still have "Treasure Tales" occurring on a month in and month out basis, many of which are regaled in their book.
The Novocins worked on this book for over two years. It shows in an easy step by step process how they run their profitable business, in such a way that others can mirror their success. It is packed with full color photos of actual items they've bought and then sold on eBay. They specialize in antiques, collectibles, and rare items and of course, their specialty, those one of a kind, quirky, unusual, never before seen finds.
In the book people will find a detailed explanation of what to look for, where to find it and how to sell it on eBay in such a way to maximize profits. Every month they continue to sell hundreds of items even after the release of the book. They are proud of the fact that after authoring their book they remain as active as ever on eBay.
For anyone who has been considering a legitimate way to generate extra income from their home, for those who love adventure and discovery, then this is the book to get. Many are raving about "Getting Sold on eBay", check out the latest reviews on Amazon.com - "I'm thrilled to have read this book! I'm a stay at home mom and I've never been able to make any "real" money from home....until now. This book has showed me how to make considerable cash with a witty yet educational approach." also "This is absolutely the best book to get you started to sell items on eBay. It is brilliantly written. The advice is so easy to follow. I highly recommend "Getting Sold On eBay" to anyone who wants a guide to how to make money selling on eBay."
The book is available on eBay, of course, as well as the Getting Sold On eBay website and Amazon. The Novocins have also produced a one hour training DVD titled, "Acquiring Items That Make You A Profit," which for a limited time is a free bonus with any books purchased through their eBay store or on their Getting Sold On eBay website. This DVD describes how to locate the best buying sources, determining trash from treasure, and more.
Norb and Marie can be followed on Twitter at @KnowsEbay or Like Getting Sold On eBay on Facebook for updates.
###