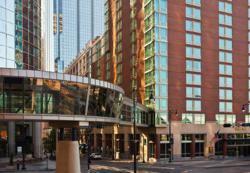 The project focuses on transforming the hotel's traditional lobby into Marriott's new "Great Room" concept and is scheduled for completion in May, 2012
Kansas City, MO (PRWEB) February 22, 2012
The highest impact phase of a nearly $20 million multi-year makeover of Kansas City's largest convention hotel is now under way. The project focuses on transforming the hotel's traditional lobby into Marriott's new "Marriott International (M.I.) Great Room" concept and is scheduled for completion in May, 2012. "The M.I. Great Room is a re-imagining of the traditional lobby design," says Cynthia Savage, director of marketing. "It allows modern travelers to function fluidly within a social context defined by their interconnected business, social and personal lives." A component of that functionality is complimentary wireless Internet service throughout the room.
The M.I. Great Room is designed to completely redefine the guest experience from the moment of arrival through departure. It works as a plugged-in, multipurpose space with three distinct yet interconnected zones that allow guests to efficiently arrive and depart, meet, work, socialize and partake in various dining and entertainment options. A central feature of the new Social Zone is a coffee bar that transitions from day through evening – from light breakfast fare and coffee in the morning to work and beverage fare in the afternoon to full service bar in the evening where guests unwind over hand-crafted signature cocktails, wines by the glass and imported craft beers. Communal tables, ongoing food and beverage service and a media wall facilitate socializing. Guests may take advantage of a 5-10-20 menu, served throughout the lobby, which provides freshly prepared dishes in 5, 10 or 20 minutes to accommodate schedules. The new Individual Zone offers an experience in public privacy by creating personal space for working or relaxing within sight and sound of an energetic public gathering spot. The At Your Service Zone is the reinvented arrival area in which traditional arrival/departure services as well as concierge, retail and business services are conducted.
The aim of the refurbishment and re-purposing project is to improve the downtown Marriott hotel's competitive position against convention hotels in other cities. It coincides with the increased national media attention Kansas City's downtown renaissance is reaping from a $6 billion investment. The Sprint Center, Power & Light District, Convention Center's expanded ballroom and recently opened Kauffman Center for the Performing Arts have given our community something to sing about," says Savage. "We are adding another verse that is resonating with travelers and meeting planners."
Convention experts suggest the concept adds a subtle, yet significant, aspect to creating meeting success. "From a convention perspective, we believe the new M.I. Great Room will serve as an important function space," says Rick Hughes, President & CEO, Kansas City Convention & Visitors Association. "It offers a very creative, adaptive space that invites personal interaction among attendees. Research shows that real learning takes place in their exchanges during the five hours between structured sessions and time in room."
Downtown Kansas City is taking a prominent place in the national spotlight. Recent accolades Kansas City has received include: Forbes magazine's recognition of Downtown Kansas City as one of the top 10 Downtowns in America; Frommer's naming Kansas City a Top 10 Travel Destination for 2012 — the only American city on the list; Travel+Leisure listing Kansas City as the most Affordable Getaway in the U.S.; and Under30CEO.com naming Kansas City the #2 city in America for Young Entrepreneurs. In the last 10 years, no city in America has invested more in revitalizing its Downtown than Kansas City.
The Kansas City Marriott Downtown has kept pace with its neighbors. The first two phases of the hotel renovation focused on improving guest rooms. The recently completed third phase focused on improving the front drive arrival experience and updating the Fitness Center and Pool. In addition to all new state-of-the-art aerobic and resistance equipment, guests enjoy some of the city's most scenic views south toward Liberty Memorial and north to the riverfront. Upon completion of the M.I. Great Room, renovation of the hotel's three-meal-a day restaurant, executive lounge and other public spaces will begin.
About Kansas City Marriott Downtown: Kansas City's largest convention hotel offers 983 guest rooms and 93,000 square feet of diverse banquet and meeting space spread out through 42 different function rooms in two towers connected by an elevated walkway. Information is available by calling 816-421-6800 or visiting http://www.marriott.com/mcidt
###