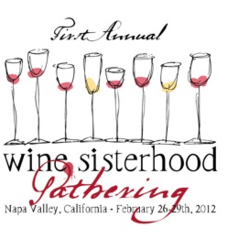 "I've been a long-time fan of the Wine Sisterhood, bringing women, wine and business together." -Jen Amis, President, Spit Bucket
St. Helena, CA (PRWEB) February 22, 2012
The first annual Wine Sisterhood Gathering is set to take place in Napa over the course of two days beginning the evening of February 26 and closing the evening of Tuesday, February 29. The exclusive event—only open to 50 participants—is centered on the amazing food and wine of the Napa Valley, while spanning the topics of Social Media, Women in Business, Wine Education, and Food and Wine Pairing Principles.
Ms. Amis will be taking part in "The Wisdom of Women" seminar being held on Tuesday, February 29 as part of the afternoon session. Ms. Amis will be sharing her expertise on techniques and approaches for using social media as a tool to launch and sustain her start-up and woman-owned and operated, business. She will be on a panel of experts including Alyssa Rapp of Bottlenotes and Facebook phenomenon Christine Trice of OMG I So Need a Glass of Wine.
Ms. Amis is perfectly suited for the panel, as she has previously worked in the tech start-up business. Six years ago, she moved to Napa, in order to build a business around her one true love: wine. "I'm honored to be included in the first annual Wine Sisterhood Gathering here in the Napa Valley. I've been a long-time fan of the Wine Sisterhood, bringing women, wine and business together," Ms. Amis commented.
Spit Bucket's involvement in the gathering doesn't end there. Each participant will receive Spit Bucket designs such as Vinocoast Wine Coasters and Vinostop Wine Stoppers as a special gift. "Not only is Spit Bucket run and operated by women, but they make gorgeous, fun products to boot. We love the clean, smart designs that co-founders Jen and Michael [Roché] have created, and try to promote them as much as possible," Terry Wheatley, founder of The Wine Sisterhood, said.
The Wine Sisterhood was founded in 2008 by three Napa Valley wine entrepreneurs: Terry Wheatly, Mary Ann Vangrin, and Natalie Wassum. The ladies formed the group after having many conversations among themselves and with other female wine professionals about wine and lifestyle. Their mission is to entertain, educate and inform their "sisters" about the wonderful world of wine though their online community, where any woman can join in on the conversation.
This gathering is the maiden voyage for the Sisterhood, bringing together 50 women to explore the gorgeous food and wine in Napa. Over the course of the gathering, the women will be venturing to Bottega, Kitchen Door, Conn Creek Winery, Swanson Vineyards, Black Stallion Winery, Round Pond Estate, and Farmstead.
The Wine Sisterhood hopes to make the gathering an annual occurrence.
About Spit Bucket, Inc.
Spit Bucket develops products for those who enjoy fine wine and fine design. Our products are developed from the mindset that wine should be fun and approachable (and it doesn't hurt to be a little bit pretty as well). The company was founded in 2009 by Michael Roché and Jennifer Amis and is based in Napa Valley, California.
About The Wine Sisterhood
The Wine Sisterhood is a vibrant digital community promoting wine conversations and engaging consumers in the enjoyment of wines through the innovative use of social networking on a variety of web-based and mobile platforms. Members of the Wine Sisterhood help guide brand development at Canopy Wine Company, a wine creation, sales and marketing company devoted to bringing delicious and authentic wines to the under $15 marketplace. The result is a broad portfolio of wines with unique personalities, packaging, quality and value informed by the opinions of consumers.
###