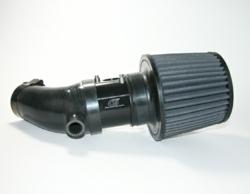 One of the easiest and most beneficial performance enhancements you can do for your vehicle, the CorkSport Power Series Short Ram Intake netted peak gains of +12HP and +17 lb torque in initial testing
Vancouver, WA (PRWEB) February 22, 2012
CorkSport is pleased to announce the addition of a new version of the CorkSport Power Series Short Ram Intake to its growing line of intake products for the Mazdaspeed 3.
The new Stage One CorkSport Mazdaspeed 3 Power Series Short Ram Intake was developed as an introductory intake by replacing the factory airbox with an open intake system while maintaining the use of the factory turbo inlet pipe.
Unlike the classic CorkSport Power Series Short Ram Intake, this kit does not include an upgraded turbo inlet pipe allowing us to provide this introductory package for just $179.00.
This affordable option for upgrading the Mazdaspeed 3 intake system includes our precision machined MAF housing made from billet aluminum with included air straightener, durable dry flow air filter and custom reinforced silicone connector.
The easy to install short ram design forces volumes of air to the engine through the dry flow air filter and MAF housing and down the silicone connector providing a noticeable improvement in power along with improved fuel economy. In initial testing the CorkSport Stage One Mazdaspeed 3 Short Ram Intake netted peak gains of +12 HP and + 17 lb torque.
Choose from a red, blue or black air filter and MAF housing to customize the look of the engine bay and select between polished or stealth black T-bolt clamps to further tailor the look of the intake system.
This was developed as an affordable alternative to CorkSport's number one selling Mazdaspeed 3 Power Series Intake System with included turbo inlet pipe.
By adding the CorkSport Mazdaspeed 3 Turbo Inlet Pipe, customers can expect to see an additional 14% improvement in airflow over the stock pipe and significantly decreased airflow turbulence by removing the restrictive nature of the stock pipe with the sweeping curves associated with the mandrel bent aluminum 60mm piping used in the CorkSport pipe.
As a kit, the CorkSport Mazdaspeed 3 Short Ram Intake and Turbo Inlet Pipe can be purchased for just $249.00, the best value on the market.
About CorkSport:
CorkSport, a leading manufacturer and reseller of Mazda aftermarket performance enhancement products, was founded in 1998 by Derrick Ambrose and Richard Harris. CorkSport's leading technology and innovation, lean manufacturing expertise, and global distribution network deliver world-class products, brands and service at a competitive cost. The company is headquartered in Vancouver, Washington and has dedicated itself to offering high level performance products and support for Mazda.
###