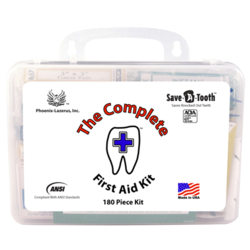 Saving our children's teeth has become a major priority in our society and their accidental loss can be avoided by buying The Complete First Aid kit.
Wayne, PA (PRWEB) February 23, 2012
"The accidental loss of any permanent teeth, especially the front teeth, is very costly, over $30,000 in a life time, and also very unnecessary if people are informed and prepared," says Dr. Paul Krasner, Professor of Dentistry at Temple University. "The millions of teeth accidentally knocked out each year in the United States can all be reimplanted and saved for life," he reports.
The Complete First Aid kit is the only first aid kit that contains the Save-A-Tooth® system. A scientific device that, if used in the first sixty minutes of the accident, can store and safely preserve any number of knocked out teeth for 24 hours. The Save-A-Tooth® is the only product of its kind that has the American Dental Association Seal of Acceptance. Obtaining this Seal of Acceptance is a very rigorous process and any product that receives this Seal can be relied on for its integrity.
"Dentists and consumers have long recognized the American Dental Association (ADA) Seal of Acceptance as an important symbol of a dental product's safety and effectiveness. For more than 125 years, the ADA has sought to promote the safety and effectiveness of dental products. The ADA Seal of Acceptance program began in 1930. In 1984, President Ronald Reagan gave the Association a certificate of commendation for the outstanding self-regulatory efforts of its Seal program," states the American Dental Association.
Americans recognize the ADA Seal of Acceptance as the gold standard when it comes to evaluating the safety and efficacy of dental products. Consumers look for the Seal when buying toothpaste, toothbrushes, mouthwash and even chewing gum. Families trust the ADA to research and test the scientific claims of consumer dental products, and we take that trust seriously.
In evaluating products for the ADA Seal of Acceptance, the Council on Scientific Affairs determines whether the product complies with its Guidelines for Participation in the ADA's Seal of Acceptance Program and the applicable ADA Acceptance Program Product Guideline listed below. These guidelines describe the clinical, biological, and laboratory studies necessary to evaluate safety and effectiveness. They are subject to revision and may be updated at any time.
"Being prepared for accidents is the primary reason for having a well-stocked first aid kit," says Dr. Henry Rankow, Professor of Dentistry at Temple University, Kornenberg School of Dentistry. "That's why it is so important to choose The Complete First Aid kit. Since it is the only kit that contains a Save-A-Tooth®, it is the only truly practical first aid kit to have at home, in your car, at schools, on school buses and the only kit that can help save all of the large dental bills caused by not being prepared for knocked out teeth," he says.
"Saving our children's teeth is one of the most important tasks of a parent," says Dr. Edward Abrams, Assistant Professor at Temple University, School of Dentistry. "With the advent of fluoride and sealants, tooth decay has been reduced by over 90% in the last fifty years. The invention and easy public access to the Save-A-Tooth® system, especially in The Complete First Aid kit, places accidental loss of permanent teeth in this same innovative category," he advises.
Having a Save-A-Tooth® in every first aid kit is recommended by most leading medical organizations. A description of how knocked out teeth can be saved is available at Saveatooth.com (http://www.saveatooth.com/technical-details).
###