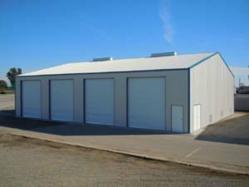 We are excited to announce our new 60' metal buildings and steel carports.
Collierville, TN (PRWEB) February 22, 2012
VersaTube® Metal Buildings, a leading manufacturer of pre-engineered steel frame components and structures, announces a re-engineered 2-inch by 4-inch framing system for clear-span metal buildings now up to 60-ft. wide. The development of a new steel frame truss component allows VersaTube® to offer greater clear-span widths, addressing calls from both consumers and dealers for construction solutions for larger metal buildings applications.
VersaTube® engineers began with the truss brace design used for previously approved 52-ft. widths. Additions and enhancements were made to create a more substantial truss support to successfully pass building code requirements for 60-ft. wide metal buildings. And these wider buildings still feature the 2-inch by 4-inch frame system with VersaTube's patented "Slip-Fit" connections that speed frame assembly – reducing construction time and cost.
At VersaTube®, engineering is integral to every metal building or carport sold. All VersaTube® structures are designed, appropriately configured, and manufactured to pass engineering and load requirements established by local building code and permitting authorities.
VersaTube® Building Systems, with plants at corporate headquarters in Collierville,
Tenn. and in Casa Grande, Ariz., designs, manufactures, distributes and markets pre-engineered ready-to-assemble metal building kits for residential, agricultural, commercial, light industrial, public works, and custom building and shelter applications.
Additional company and product information – for metal buildings, garages, carports, and shelters – is available from the VersaTube® Building Systems website at http://www.VersaTube.com.
###