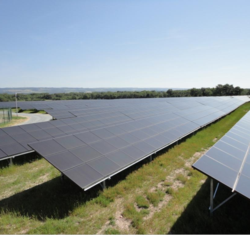 We are convinced that solar projects must be designed to maximize revenues and it is EPS's ambition to change the way that solar developers are deploying new capacity.- Paolo Pietrogrande chairman of Element Power Solar
Portland, OR (PRWEB) February 22, 2012
During 2011, the solar plants developed and managed by Element Power Solar(EPS) delivered 84GWh to the grid, worth about $54M revenue, roughly 10% more than expected by plant shareholders, advisors and lenders.
Since its first solar plant went in operation in Europe in 2007, EPS has always exceeded expected power delivery, a confirmation of the solid project development, technology selection, capabilities of the company's team.
"Exceeding performance is an added advantage for EPS solar plant's shareholders" – says Paolo Pietrogrande, chairman of Element Power Solar. "It confirms our company ability to focus on the quality of each individual project, rather than on the size of our portfolio: We are convinced that solar projects must be designed to maximize revenues and it is EPS's ambition to change the way that solar developers are deploying new capacity."
Element Power Solar has developed and put in operation already 77 MWp of solar plants, and has retained ownership of 22 MWp, while still continuing to manage through its sister division EPAM (Element Power Asset Management) most of the plants it has sold to third parties: the 84GWh produced during 2011 refer solely to the 44MWp of projects that have been developed and have had a full year of commercial operation under the management of EPAM.
The solar projects which entered in operation during 2011 have added further output and revenues: based on the excellent results of its older operating solar power plants, EPS estimates that in 2012 the operating projects it has developed and built will deliver to their shareholders in excess of 130GWh, worth over $80M/yr revenues from solar power.
Element Power Solar is currently developing further projects in Europe, in Latin and North America and in other emerging countries.
Element Power Solar is a unit of Element Power focusing on the global opportunities in PV solar. Element Power Solar has an extensive portfolio of solar projects with 77 MWp of solar projects developed, built and already put in operation and over 2,200 MW of projects in development in Europe, North America, Latin America, Africa and South East Asia. Element Power Solar is based in Portland Oregon, with offices in Madrid, London, Verona, Charlottesville, Concepción and Mexico City.
For more information http://www.elpowersolar.com/
###