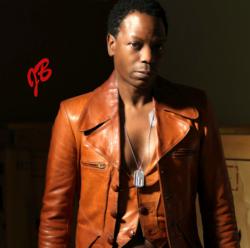 FEELS SO RIGHT
(PRWEB) February 27, 2012
Jeryl Bright feels so right, the sensational vocalist, background singer, musician and composer is a former member of the legendary funk group Cameo. Known for his great horn arrangements and trombone playing on many of the Cameo and Brainstorm records, many did not know that Jeryl's singing and vocal ad-libs with those bands helped shape the sound that many grew to love.
Jeryl Bright's recording career began with Detroit's funky billboard award-winning group, Brainstorm, but his preparation for star power began in his youth. Jeryl spent his formative years between Los Angeles and Shreveport, Louisiana during his childhood.
Jeryl's influences range from Mozart to Frank Sinatra, Marvin Gaye to Ozzy Osborne. His favorite performer's of pop music are Rod Stewart , Mick Jagger, Michael Jackson and Emilliana Torrini. His Funk Rock style, as he calls his music will become more apparent in the up coming releases from the new CD entitled, "Not All Rock n Funk."
Jeryl's new video "Feels So Right," released just weeks ago already with 1000s of YouTube views is fast becoming an anthem and the latest big saying "Feels So Right" with 100s of 1000s of tweets on veengle.com, http://www.veengle.com/v/vvf2. The fresh new single released on Bizcuit Records/Sony Music Entertainment first played by Jonathan L's radio show the Lopsided World of L with an additional fourteen stations playing the record, 106.7 FM in Phoenix, Sofa-King internet radio,103.1 Los Angeles and King FM Berlin Germany and on and on.
Jeryl's first video, "I'm the One You're the One," taken from the MCB compilation; released last year, has over 100,000 YouTube views, gained heavy airplay in the UK and Europe and is now being sought after in the US, and it's a fine stepper. http://youtu.be/QfmAcaUQxYE.
"This feel good music could be perfect timing for the singer, the reason its catching on," said Jonathan L.
Distributed by Sony Music Entertainment and available on itunes and other digital outlets.
Follow @Jeryl Bright on Twitter and "Like" on Facebook.
###