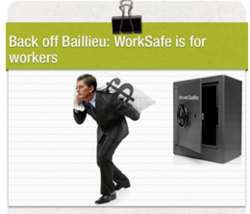 (PRWEB) February 27, 2012
Victorian workers' safety and entitlements are being threatened in an unprecedented move to save a quick buck – at the expense of those who most need the help: the injured.
The Victorian Government plans to strip $471.5m over four years from the WorkCover Authority, known as WorkSafe, to help the State Government balance its books.*1
Maurice Blackburn Lawyers has started an online campaign featuring a petition and Facebook page aimed to stop the Victorian Government in its tracks.
Maurice Blackburn workplace law expert John Cain said the State Government's plan is seriously flawed.
"It is a raid on employer WorkCover contributions, and could drive up premiums and threaten injured workers' compensation entitlements. It's unfair for all Victorians and needs to be stopped," he said.
There are more than 2.5 million people working in Victoria, and this year about eight workers in every thousand will be injured at work to a level requiring at least a week off work, medical attention and compensation.*2
"These injured workers are entitled to fair compensation," Mr Cain said. "We need to invest more in preventing workplace injury, not put more pressure on premiums and benefits paid to injured workers.
"Businesses contribute to WorkCover on the basis that it is an insurance fund for injured workers, and they expect that premiums will be invested securely to compensate injured workers, not raided when times are tough.
"It's a short-sighted plan that leaves little buffer to keep premiums affordable for business. "This is a back door tax that is bad for business, bad for workers and bad for Victorians. "No one should let the State Government jeopardise workers' safety and entitlements – and Victoria's future."
Links:
Petition: http://www.change.org/petitions/victorian-government-dont-raid-worksafes-surplus
Facebook: https://www.facebook.com/WorkSafeIsForWorkers
Media inquiries:
Cameron Scott at Maurice Blackburn
T 0400 876 466 E cscott(at)mauriceblackburn.com(dot)au
*1 WorkSafe fund grab a 'raid on employers'
*2 Comparative Performance Monitoring Report 13th Edition, October 2011, Indicator 2, p12
###