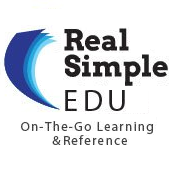 The developers are great! They respond quickly. The app is excellent! I love that it can now go on the SD card!
Seattle, WA (PRWEB) February 22, 2012
The mobile app industry has grown exponentially since Apple opened the world's first major app marketplace. In this time thousands of startups have sprung up, all with dream of building the next major mobile app brand, but with very few ever achieving any notable success.
RealSimpleEDU is one of those mobile app companies that not only survived but actually prospered over this period of time largely due to its commitment to the customer. By tirelessly focusing on promptly fixing customer issues and improving their apps day by day based on customer feedback, RealSimpleEDU has become a dominant brand in the learning and reference space.
Currently this customer commitment has resulted in the acquisition of 250,000 loyal paid users throughout the world in 150+ countries.
Having noticed a large gap in the market where no company was providing affordable and useful learning and reference apps, founder Kalpit Jain set out to build the number one company in this field by focusing on creating apps that over-delivered on value and allowed people to learn and refer to information while on-the-go.
From the launch of the first RealSimpleEDU app, the demand for these byte-sized reference tools was readily apparent. Today the app product line has grown to include over 100 different topics and, due to user demand, has conveniently been made available on every major device for both phones and tablets.
Customers are routinely amazed by the excellent customer service and ability to make suggestions for improvement that appear in the apps within weeks:
"The developers are great! They respond quickly. The app is excellent! I love that it can now go on the SD card!" -Louanne, Android, Math
"Love Real Simple Edu Apps! (Updated Review) Thanks, "Real Simple Edu Apps" for fixing the problem I described in my review. I am a college student, so this app has helped me within my Trig. course!" -Joshua, Amazon, Trigonometry
Many more users are simply thrilled to finally find high-quality apps that meet their exact needs and solve their problems:
"Amazing. We need more apps like this one!!!" -Sirenical, Apple, Computer Science
"Great app! The app is WELL WORTH the monies paid for it. I use it everyday in PreCal!" -Hensley, Apple, Pre-Calculus
"A great on the go tool to accompany my Italiano class on campus" -JimmyAT, Windows Phone 7, Learn Italian
"Very good. Compare with the other Cancer info program in the store, this one is cheaper and so much better." -Jonah92, Nokia Ovi, Cancer
"Best I have seen on the subject. It covers more and in greater detail than the high dollar books.... and comes with flash cards :)" -Bil, Android, Android Programming
Having updated most apps at least once every two months to incorporate user feedback and to add new functionality such as quizzes and flashcards, it's no wonder why so many of RealSimpleEDU's users are raving fans. In fact, on the Android marketplace nearly every app is rated between 4 and 5 stars, a strong testament to the value being provided to customers.
Given the wide range of potential expansion topics and the high demand for information packaged in this convenient format, RealSimpleEDU is on track to become the dominant brand in the learning and reference mobile app market.
# # #