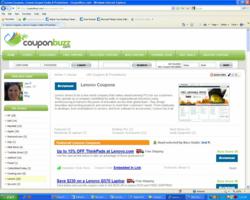 Impressive offers like this one are helping to make a great success of our newly launched Lenovo coupon webpage.
Houston, TX (PRWEB) February 22, 2012
Today CouponBuzz.com featured a 15% off Lenovo Coupon for Thinkpads on their recently launched webpage dedicated to special offers from Lenovo. The 15% off coupon results in significant savings for online shoppers, from $50 to $150 off the already low online retail price for a brand new Thinkpad.
As one of the top retailers for notebooks and desktops worldwide, their focus on innovation and quality continue to accelerate Lenovo to the top of their industry. As they explain on their website Lenovo "…develops, manufactures and markets reliable, high-quality, secure and easy-to-use technology products and services for customers who want technology that does more— because people have a lot more to do."
Lenovo is the product a 2005 merger between the China-based company Legend Holdings and the US-based Personal Computer Division of IBM. Today, Lenovo is a global Fortune 500 company, with manufacturing and research centers around the world and headquartered in Beijing, China and Morrisville, North Carolina. They are the number one PC company in China and Japan, and number one world wide for the public sector and large businesses. Their focus on new designs, creative marketing, and top-quality products has produced significant success. For example Lenovo has sold over 60 million Thinkpads, the world's fasted booting notebook, in the 18 years since the launch of the Thinkpad line. The Ideapad, a notebook targeted to individual consumers, is also enjoying significant success.
"We are exciting at the attention this special 15% off promotion for Lenovo Thinkpads is getting across the industry," said Justin Bowen, head of marketing for CouponBuzz.com. "When you are looking at the large initial investment a new personal computer involves, 15% off can result in considerable savings. Impressive offers like this one are helping to make a great success of our newly launched Lenovo coupon webpage."
The 15% off coupon is valid for all Thinkpad 520 notebooks. The Thinkpad 520 features a 15.6 inch display screen, and customizable processor, hard drive and memory features. These new Thinkpads are also incredibly portable, weighing in at just 5.4 pounds! A full review of all the features can be accessed via the special link on CouponBuzz.com's new Lenovo coupon webpage, http://couponbuzz.com/lenovo-coupons.html.
###