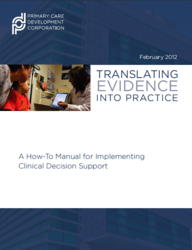 We are excited to provide a free resource that can help guide providers through the difficult but important processes that can improve health outcomes for their patients
New York, NY (PRWEB) February 22, 2012
Today the Primary Care Development Corporation (PCDC) released its latest publication, "Translating Evidence into Practice: A How-To Manual for Implementing Clinical Decision Support." The manual provides step-by-step guidance for medical directors and senior leaders at primary care organizations to implement quality improvement initiatives, with a special focus on using electronic health records to advance chronic disease management. The manual was developed following a two year project with Open Door Family Medical Centers (Open Door), a federally qualified health center (FQHC) with four practice sites in Westchester county, NY serving over 40,000 underserved patients.
To download the manual, click here.
"Primary care providers, particularly those serving the safety net, are under significant pressure to meet quality standards and enhance their quality improvement infrastructure. This comes at a time when resources are tight, yet primary care is increasingly recognized as a means to improve care quality, health outcomes and reduce health care costs," said Peter Cucchiara, Managing Directorof PCDC's Performance Improvement Practice. "We are excited to provide a free resource that can help guide providers through the difficult but important processes that can improve health outcomes for their patients."
The Open Door experience, described throughout the manual, demonstrates that hypertensive patients treated using a clinical decision support intervention were 1.5 times more likely to have controlled blood pressure than pre-intervention. Using this success as an on-the-ground model, the manual provides a systematic approach for designing, planning, implementing and evaluating a quality improvement initiative with a clinical focus. Specific goals of the manual include defining the project, setting quality improvement goals, assessing and understanding current data and technology capabilities, implementing change and using data to evaluate and sustain improvements.
"This project allowed Open Door to truly transform our practice thanks to learning to use population health data to improve care. The feedback loops modeled in hypertension have been applied to other diseases and conditions and have benefited thousands of patients," said Lindsay Farrell, President & CEO of Open Door.
This project was supported by a federal grant from the Agency for Healthcare Research and Quality (AHRQ Grant #5R18HS017167) in partnership with PCDC, Open Door Family Medical Centers, New York University College of Dentistry and School of Medicine and Columbia University.
About PCDC: Founded in 1993, the Primary Care Development Corporation (PCDC) is a nonprofit organization dedicated to expanding and transforming primary care in underserved communities to improve health outcomes, lower health costs and reduce disparities. PCDC's Performance Improvement Practice has helped more than 400 provider teams redesign workflows/processes and adopt new technologies to increase productivity and deliver higher quality care, resulting in improved care for more than 5 million patients and training for more than 5,000 healthcare staff and licensed providers at more than 300 healthcare organizations throughout the U.S. In addition, PCDC published, "Obtaining PCMH Recognition: a How-To Manual," a free online resource that provides a comprehensive project management framework and user friendly tools for achieving PCMH recognition.
About Open Door Family Medical Centers: Open Door has been designated as a Level 3 Patient-Centered Medical Home and in 2010 received the Davies Community Health Organization Award. The HIMSS Nicholas E. Davies Award of Excellence has recognized excellence in the implementation and use of health information technology, specifically electronic health records since 1994. This ranking distinguishes them from medical practices across the nation as less than 12% are presently eligible to achieve this advanced standing. For 40 years, Open Door has served a multicultural community and has provided top quality medical, dental care and social services to the Westchester community, particularly the economically disadvantaged.
###