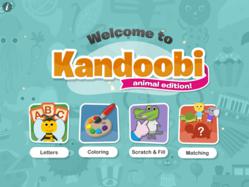 "Parents and toddlers have never seen such a wide variety of animals featured in a single app."
Los Angeles, CA (PRWEB) February 23, 2012
Tuesday Creative, a Los Angeles, CA based award-winning interactive design studio has launched Kandoobi - Animal Edition for iPad their first mobile game app designed for toddlers and young children. According to App Annie, the app debuted at #61 in the App Store under the Educational Games category.
Unlike many early childhood development apps, Kandoobi – Animal Edition features over 100 animals including a badger, anteater, manatee and a ferret. Children are humored by a pigeon who wears a shower cap and a panda who sports pink fuzzy bunny slippers. "Parents and toddlers have never seen such a wide variety of animals featured in a single app," Scott Seward, Co-Founder. The intuitive user experience design enables children as young as 18-months-old to pick up and begin enjoying the coloring, matching and spelling activities immediately.
For the past 10 years, Tuesday Creative's team has been producing websites and mobile apps for major brands including Disney, NBCUniversal and DIRECTV. Kandoobi was born out of Tuesday Creative, and nurtured by Scott Seward, Steven Running, Chuck Rickard and Diana Scott as a Tuesday Creative Labs project. Tuesday Creative Labs incubates innovation and creativity projects. Kandoobi is the result of a team effort in product development, graphic design, user experience and mobile development.
Launching Kandoobi also fulfills a goal that Seward and Running have had to produce safe, high quality, engaging interactive activities for young children. As parents, they searched for trusted interactive content for their young children. "The launch of the iPad opened up a world of possibilities for developers to create new brands and content. We are excited to use our expertise to entertain and educate young children. It is amazing to see a two-year-old pick up the matching game so quickly and then watch a five-year-old create amazing original art with the coloring app," Steven Running, Creative Director.
Look for Kandoobi - Animal Edition to launch on iPhone and Android later this year.
About Tuesday Creative
Founded in 2002 by internet veterans Scott Seward and Steven Running, Tuesday Creative is headquartered in Los Angeles and provides web and mobile design services to entertainment and media's leading brands including Disney, NBCUniversal and DIRECTV. Tuesday Creative Labs launched Kandoobi, a children's software company dedicated to creating affordable, fun, safe and engaging activities and games for babies, toddlers and preschoolers. Kandoobi – Animal Edition for iPad is the first product of Kandoobi. "Like" Kandoobi on Facebook and be notified of new product releases.
###