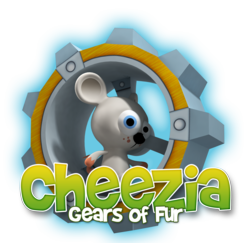 A physics-based platformer in the spirit of Marios and Sonics
Helsinki, Finland (PRWEB) February 23, 2012
Finnish Attido released their newest Cheezia game on all iOS platforms on Thursday, February 23rd.
Cheezia: Gears of Fur is a physics-based platformer in the spirit of Marios and Sonics. You are Manu the Mouse who must save the secret cheese recipes from the hands of Evil Kiwinel. Jump, dash and climb walls while you plunge through various levels of dangers and enemies. Collect bonus items and activate super powers like invulnerability or super speed.
The game's Android version will be available in Android Market in March 2012.
Features

Get the first 6 levels for free
Platforming action with easy and precise controls
Physics engine brings realism and excitement to gameplay
Universal App that runs in iPhone, iPad and iPod Touch
HD graphics and Retina Display support
Game Center leaderboards
GET CHEEZIA: GEARS OF FUR FOR FREE AT
http://bit.ly/gof-app
MORE INFO AND PRESSKIT
Press kit: http://www.cheezia.com/press/
ABOUT CHEEZIA
Cheese factory Cheezia opened its doors to eager players in August 2011. The arcade-styled puzzle/reaction game is available on iOS, Android and Windows Phone 7 platforms.
ABOUT ATTIDO / NORDIC SOLUTIONS SYSTEMS
Attido ensures the smooth operation and high performance of business-critical information systems. Attido delivers customized and tailor-made solutions for an exact fit to customer needs, and provides functional support and performance management services throughout the solution lifecycle.
In addition to IT system development, Attido also develops business, marketing and leisure apps and games for various mobile platforms. Our clients include the likes of Adidas, Atkins and Numbridge. Our products, such as "Crime Map England" and "Cheezia", have tens of millions users worldwide. Attido currently employs over 100 information systems and software professionals in Finland, Estonia, Latvia and the UK.
Nordic Solutions Systems Oy was founded in March 2011 as a subsidiary of Attido.
More info: http://www.attido.com
MEDIA CONTACTS
Jyri Kilpeläinen
jyri.kilpelainen(at)attido(dot)com
tel +358 50 533 8259
###