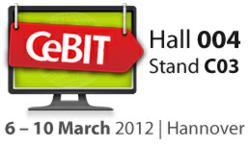 Get your free ticket to CeBIT 2012 and visit ISL Online to try their remote desktop and remote access software for mobile devices.
Swindon, UK (PRWEB UK) 23 February 2012
ISL Online will be exhibiting its online collaboration software at the largest European IT fair, CeBIT, in Hannover, Germany from 6 – 10 March 2012. The company is offering to provide free tickets to all interested in their software and welcome them at the Stand C03 in Hall 004.
At this year's CeBIT ISL Online will be focusing on its exciting new mobile applications such as the latest ISL Light remote desktop and access software for iPhone, iPad, and Android phone and tablet.
In collaboration with ArtiSol, ISL Online will be also presenting state-of-art help desk solution consisting of virtual chat agent (1st line), live chat web-channel (2nd line) and remote desktop support software (3rd line).
Free tickets and 60-day free trial
ISL Online will be glad to provide all current and future users with a ticket for CeBIT 2012*. Anyone interested, please contact ISL Online at sales@islonline.com or come to our live chat.
ISL Online developers continuously update and improve the functionality and design of their products and keep up with the latest trends. The CeBIT visitors will be able to see and try their latest achievements as well as to register for a promotional 60-day fully functional free trial, which includes remote desktop, remote access, live chat and web conferencing software and all ISL Online mobile applications.

The number of free tickets is limited. First comes – first served.
About ISL Online
ISL Online (http://www.islonline.com) provides SaaS-based remote access, remote desktop, live chat and web conferencing solutions to quickly, simply and securely connect millions of internet-enabled devices across the globe –Windows, Mac or Linux computers, smartphones and tablets. Designed for consumers, mobile professionals and IT organizations, ISL Online's solutions empower over 120.000 business users like Konica Minolta, IBM and IDEXX to create more than 5 million sessions yearly.
###