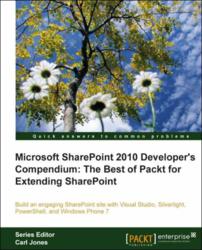 Birmingham, UK (PRWEB) February 23, 2012
Packt Publishing is pleased to announce the publication of Microsoft SharePoint 2010 Developer's Compendium, a book and ebook designed to take the experienced ASP.NET developer from beginner to professional SharePoint developer in the shortest amount of time. It not only contains detailed step-by-step recipes for effective task completion but also practical examples that cover builds and flows.
This comprehensive guide draws content from a range of Packt's top-selling SharePoint titles:

Microsoft SharePoint 2010 and Windows PowerShell 2.0: Expert Cookbook
Microsoft Silverlight 4 and SharePoint 2010 Integration
Microsoft SharePoint 2010 Development with Visual Studio 2010 Expert Cookbook
Microsoft SharePoint 2010 Enterprise Applications on Windows Phone 7
SharePoint 2010 Business Application Development Blueprints
The Microsoft SharePoint 2010 Developer's Compendium teaches developers to create custom PowerShell commands and utilize them to access advanced SharePoint 2010 functionality with external libraries. It also enables developers to create Snap-Ins and List Event Receivers with Visual Studio. Developers will soon understand the benefits of integrating Silverlight with SharePoint through the Silverlight Toolkit. This step-by-step tutorial will also help developers gain a comprehensive introduction to programming in Windows Phone 7 and SharePoint including working with e-mail, contacts and calendars.
The book is available in print, ebook, Kindle, and select library formats. The print book comes in at over 392 pages and has a cover price of $44.99, whilst the ebook and Kindle versions are available for $19.99.
The full chapter listing is as follows:
Chapter 1: Understanding SharePoint Development Choices
Chapter 2: Building an Engaging Community Site
Chapter 3: PowerShell scripting methods and creating custom PowerShell commands
Chapter 4: Integrating Silverlight 4 with SharePoint 2010
Chapter 5: Interacting with Rich Media and Animations
Chapter 6: List Definitions and Content Types
Chapter 7: Workflows
Chapter 8: Introduction to Programming Windows Phone 7 with the SharePoint Client Services
Chapter 9: Building SharePoint Pages for Windows Phone 7
Chapter 10: Building a Windows Phone 7 Dashboard
Packt Publishing has published 10 Sharepoint titles to date, including
Microsoft SharePoint 2010 development cookbook (published)
Microsoft SharePoint 2010 End User Guide: Business Performance Enhancement (published)
Microsoft SharePoint 2010 Development with Visual Studio 2010 Expert Cookbook (due soon)
The full listing of all SharePoint books can be found on the Packt Website.
All Sharepoint 2010 books are published by Packt Enterprise. Packt Enterprise is a publishing division of Packt Publishing designed to serve the information needs of IT Professionals in the Enterprise space. Packt Enterprise also publishes on Microsoft, IBM, Oracle, Citrix, Java, Amazon, Google and SAP technologies.
###