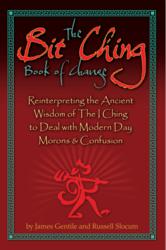 Our vision was to create a book that deserved a place in every rest room stall in corporate America.
Wyomissing, PA (PRWEB) February 23, 2012
What do you get when the outgoing head of a construction outfit uses ancient Eastern philosophy to help build everything from bowling alleys to healthcare complexes to relationships, and ultimately his own success? In The Bit Ching Book of Change, you get a funny, insightful and refreshingly down-to-earth guide to bettering your career, reputation and life in general.
The Bit Ching Book of Change is formatted similarly to the I Ching: or Book of Changes, the 5000-year old text considered to be the cornerstone of Eastern Thought. The I Ching is a sacred text among the Chinese, the common root for Taoism and Confucianism, and a valued guide for followers of Buddhism. It also has been a major influence on the life and career of Jim Gentile, the founder of North Star Construction, Polaris Properties and a number of other enterprises around Eastern Pennsylvania's Lehigh Valley, and co-author of The Bit Ching Book of Change.
"You can open the I Ching to any page and in two minutes get a fresh perspective on something," says Mr. Gentile. "I always like that. So we used the same format of 64 short chapters in The Bit Ching. Our vision was to create a book that deserved a place in every rest room stall in corporate America."
As modern guide to defining and achieving one's own idea of success and happiness, the radically Westernized Bit Ching Book of Change doesn't always tread lightly on the path to enlightenment. There may be a serious message behind most of the chapters, but the authors don't hold back on humor as they offer advice and examples for dealing with the systems, beliefs, practices and personality traits that they feel get in the way.
"Most people wouldn't peg Jim as a fan of ancient Eastern philosophy, at least when they first meet him," says co-author Russ Slocum, a long-time friend and business associate of Mr. Gentile, and head of The Slocum Group, a marketing firm based in Wyomissing, PA. "He's a very outgoing guy, to put it mildly. He's got a punch line for everything and a contagious belly laugh. But if you're familiar with the I Ching and you watch how Jim handles situations and interacts with others, it all connects."
Initial reviews and feedback suggest that The Bit Ching hits its mark. Referring to the book's chart designed to pinpoint a problem and direct the reader to the appropriate chapter, one reader wrote, "I found the solution to a 7 month problem in 7 seconds. Down to Bullshit, over to Confusion, and bingo – problem solved."
One reviewer calls it, "A fun read for aspiring entrepreneurs, self-reflectors or people just looking for some inspiring short stories." Another recommends it "to anyone starting a business, wishing to succeed in a relationship, or just desiring to live purposefully and honestly." Another says, "It's like guidance from a sort of Buddha with brass balls."
"The Bit Ching Book of Change: Reinterpreting the Ancient Wisdom of The I Ching to Deal with Modern Day Morons & Confusion," is now available online from Amazon, Barnes and Noble and several other web-based retailers.
###