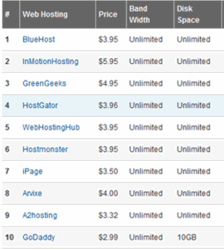 We dedicate to help people find the best web hosting solutions for their web sites.
(PRWEB) February 23, 2012
WebHostingClue.com, an industry leading web hosting review and rating site, today announce the winners of 2012 Best Web Hosting, in which Bluehost is awarded as the most popular web hosts and InmotionHosting is recognized as Best Small Business Hosting.
Every year WebHostingClue.com add something new to rate each web hosts. In 2011, they started recommending the web hosts with social responsibility, especially those green hosting solution providers. And in this year, they partnered with HostUCan to add customer reviews and web hosts uptime report into the consideration.
Bluehost is rewarded as the most popular web hosts in 2012. Their all-in-one package includes almost everything you could expect from a Linux web host. The price is also affordable to be $3.95/month. "Anytime money back guarantee" really puts their customers' money in safe. And according to the customer review data from HostUCan.com, we see 100% satisfaction rate, it cannot be even better.
InmotionHosting is the winner of 2012 Best Small Business Hosting. As a web host who has offered business hosting solutions since 2001, InmotionHosting clearly know the different between business hosting and personal web hosting. They invest a lot on the data center, web server and customer support to bring the reliable, fast and secured hosting solution for online business. And their customer support team stands by 24*7 to offer help when required. According the customer reviews from HostUCan.com, over 70% of their customers are business related, and around 95% of them are satisfied customers.
Besides the top 10 web hosting in 2012, WebHostingClue.com also announced the awards winner for each web hosting niche, such as Best WordPress Hosting, Best Drupal Hosting, Best Linux Web Hosting, etc. Visit WebHostingClue.com to know more about who are the best web hosting in 2012.
About WebHostingClue.com
WebHostingClue.com is operated by a group of professional web hosting reviewers and editors with a mission to help people find the best web hosting solution for their sites. Their yearly web hosting awards is one of the most authoritative hosting awards in the industry.
###