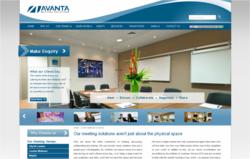 Demand has been high in recent months and this has seen us increase our meeting room revenue by 20% in 2011, compared with 2010, and we look to increase this further in 2012
London (PRWEB UK) 23 February 2012
Following a massive surge in bookings for its fully equipped meeting and training rooms, Avanta has launched a dedicated meeting room website – http://www.avantameetingsolutions.co.uk
The new website provides users with detailed specifications of all available Avanta meeting rooms and their facilities, as well as comprehensive photographs of lay out options with maximum capacities and tariffs. Downloadable catering menus and specifications of AV equipment are also available.
The company currently has 90 different sized rooms ranging in capacity from 2 -120 people at 17 business centres in prime locations throughout London and the UK. All Avanta meeting rooms come equipped with free Wi-Fi as standard and flip charts, plasmas and white boards can all be used for free too.
In addition, all Avanta locations have highly trained Institute of Customer Service accredited centre teams on hand to help with meeting your guests, furniture layout and organising catering and AV equipment. Pricing starts at just £19 per room, per hour in Central London and all rooms are available to hire by the hour, half day or full day. Day delegate rates which include lunch, 3 servings of tea and coffee, unlimited water, A/V equipment and room hire are also available.
Geraint Evans, Avanta's sales and marketing director comments, "Businesses are increasingly finding that it is no longer cost-effective to maintain their own – often largely unused - meeting rooms and are instead migrating to the high quality meeting room facilities that are available on-demand across all of our business centres.
"Demand has been high in recent months and this has seen us increase our meeting room revenue by 20% in 2011, compared with 2010, and we look to increase this further in 2012. This dedicated website provides clear, comprehensive and detailed information on our 90 meeting rooms. They are all non-branded and can be configured in a variety of formats and so whether you want to hold a one-off meeting for an interview, a series of board meetings or perhaps a sales conference, Avanta Meeting Solutions can help you project a thoroughly professional and business-like image."
All Avanta meeting rooms are conveniently located within walking distance of public transport and for every meeting room booking for 10 delegates or more Avanta will donate £1 to Sparks, the children's medical research charity. As a result Avanta expects to raise more than £6,500 for the charity during 2012.
For further details, please visit: http://www.avantameetingsolutions.co.uk or telephone 0870 0493 404.
Note to editors:
Avanta Managed Offices Limited was formed in 2004. The company offers highly flexible, unbranded office space and meeting rooms, with advanced and competitively price technology, tailor made to meet the requirements of the occupier. In the UK it currently manages more than 650,000 sq ft of office space in prime locations in London, the Thames Valley and Edinburgh. It also operates one business centre in New Delhi, India and in 2009 formed a partnership with Regent Business Centers, which manage 13 locations throughout the US.
For further information about Avanta
Colin Peck, Gravitas Business Communications
07802 606 433
colinpeck(at)aol(dot)com
Anna Norman-Butler, Avanta Managed Offices Ltd
0203 008 6000
http://www.avanta.co.uk
Join us at:
twitter.com/avantaoffices
facebook.com/avantaoffices
youtube.com/user/avantagroup
###