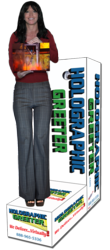 the Holographic Greeter absolutely stops traffic right in their tracks and provides an unrivaled marketing impact
Las Vegas, Nevada (PRWEB) February 23, 2012
GlobalShop is the world's largest annual event for retail design and shopper marketing. Through the latest trends and technologies, Global Shop offers real-world practical solutions to enhance the retail experience and connect with the changing shopper. Leading that charge in 2012 is Marketing Ad Group's Holographic Greeter.
The Holographic Greeter is an exciting information, branding and promotional messaging medium which displays a holographic image projected onto a life-sized cut-out that is so unique and lifelike, Shoppers can't help but stop and stare. Incorporate your Brands portfolio with the Greeter's iPad PowerPoint presentation or show streaming video of your creative with our frameless screen in screen capabilities. Add in interactive Advanced QR Codes and Real Time QR Click Management Reporting™, AromaFusion™ Scent Technology, wireless video updating and now the Speaking Glass™ Storefront Audio System all in one compact eye catching promotional package and the Holographic Greeter delivers a total immersion experience that guarantees results. With a compact 15 by 40 inch footprint, The Holographic Greeter will fit in the tightest Retail environment while the overall height of 5 feet 4 inches allows your message to make a big impact!
Bill Barrett, Product Development Manager with Marketing Ad Group, says "the Holographic Greeter absolutely stops traffic right in their tracks and provides an unrivaled marketing impact".
The Holographic Greeter can be positioned virtually anywhere and is a high-tech communications platform that serves up information and personal greetings in a decidedly unique fashion. Because the Holographic Greeter is so animated and compelling, Advertisers can deliver their message or introduce new products to a receptive audience without intimidation. Retailers, Museums, Hotels, Attractions, Mass Transit, Schools, Hospitals, Trade Expos, Doctors, Offices, etc are finding this a must have for engaging the Customer and meeting their marketing objectives.
Marketing Ad Group offers the Greeters for lease, purchase or through their Co-Op Program which offers participating Retailers an opportunity to turn this captivating promotional and branding concept into a revenue producing vehicle for their business while also benefiting from the increased exposure and sales lift provided by this captivating device.
For more information, contact Bill Barrett at 888-965-5336, visit http://www.holographicgreeter.com or stop by Innomark Communications booth 438 at Global Shop 2012!
###