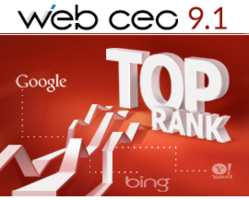 The updated SEO ranking reporter is now more powerful than any other website position reporting tool available on the SEO software market.
London (PRWEB) February 23, 2012
"The tool for website position checking has always been a favorite with our users. Various kinds of technical interruptions during the ranking report updates - even if the software itself was not to blame- had the potential to cause resentment." – says Viktor Tatarov, CEO and Chief Architect of Web CEO. "The latest software update of Web CEO introduces enhancements in our algorithm of search engine queries that ensure successful keyword requests, even if a Web CEO user wants to update a fairly large report."
The other innovations in Web CEO 9.1 improve the SEO reporting feature – particularly with searches for website URLs on SEs and creative content file URLs in social media.
The Ranking Checker is now capable of reporting YouTube movies, Flickr images, Facebook profile URLs and Twitter "tweet" URLs that can be found via keyword search on the respective social media.
The Ranking, Links, Keywords and Submission reports are now available in Spanish, Italian, German, French and Dutch. This will definitely streamline SEO processes for European, Latin American and internationally-oriented professional search engine marketers and optimization specialists.
The "Site rankings" report has a new presentation and now it's possible to see for which keywords each page of a website is ranked on the selected search engines.
In the course of the new Spring 2012 Web CEO 9.1 promotion campaign, the Web CEO Professional Suite is available with a 40% discount and the updated SEO training and certification from Web CEO University is offered for 67% less.
About Web CEO: Since 2000, Web CEO has been developing what has become the most popular search engine marketing and optimization software toolkit in the world. Web CEO Desktop is used by more than 840,000 registered users. The Web CEO Team has two more popular projects. Since December 2010, Web CEO Online, which is a set of web-based SEO tools, is sharing user popularity and love with Web CEO Desktop. EmailTray is a free smart email client that has a loyal user base. The company is registered in London, United Kingdom with engineering offices in the Ukrainian city of Kherson, which is a growing center for software and web development.
###