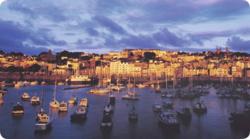 Allowing HMRC to dictate the practices of Guernsey's government would be resoundingly unfair.
London, UK (PRWEB UK) 23 February 2012
Pryce Warner International Group – HMRC announced changes to QROPS regulations on December 6th 2011 in order to combat cases of mis-selling.
After a six month consultation with industry experts, HMRC proposed "Condition 4" as a way to protect individuals with QROPS by introducing clearer and more and accountable regulations.
If enacted, "Condition 4" would mean that Guernsey residents and non-residents would pay the same amount of tax on QROPS pensions. As QROPS are primarily designed for Expats i.e. individuals who are resident in one country but domiciled in another, QROPS providers in Guernsey are lobbying HMRC to exempt Guernsey from "Condition 4". They argue that this rule runs counter to the purpose of QROPS, will have no added benefit for HMRC and unnecessarily punishes Guernsey, the QROPS jurisdiction with the strictest guidelines on client protection.
While Guernsey QROPS providers continue to fight the proposed changes, they have simultaneously drawn up a contingency plan. This plan involves a new pension scheme that would meet the requirements of "Condition 4", called Section 157(E). Though it is possible to make Guernsey QROPS compliant with "Condition 4", providers are reluctant to do so as it means a higher rate of tax on members, something providers fear will damage the market.
In order to enact this new pension scheme draft legislation has been submitted to the island's government, which will debate it on the 7th of March. If the bill is passed the new legislation and offshore pension scheme will be enacted prior to HMRC's new regulations coming into force on the 5th of April.
The key features of the new pension scheme are:

Each new Guernsey pension scheme will need to be approved by States of Guernsey Income Tax office
Open to Guernsey residents and non-residents
No tax on the payment of benefits to members regardless of residence
No tax on investment income
Members of an existing scheme can transfer to the new 157(E) scheme and receive the following benefits:
No contribution limits
Normal retirement age still 55
Maximum 30% lump sum
No upper age limit on taking benefits
Transfers from other Guernsey pension schemes will be subject to 20% tax on Guernsey tax relieved funds
David Retikin, Director of Operations at Pryce Warner International Group, a leading Guernsey QROPS provider commented: "Condition 4 is rightly designed to clamp down on the types of mis-selling that have been seen in jurisdictions such as New Zealand and Hong Kong, but it will disproportionately affect Guernsey, which has a completely clean QROPS record with HMRC. Guernsey providers are right in their attempts to correct this prior to April 5th as it may cause significant damage to the Guernsey pension market. It is strongly possible that HMRC will drop this provision for Guernsey providers, as the provision holds no benefit for HMRC itself. Condition 4 only affects whether or not scheme members pay tax in Guernsey, not the UK, meaning it should be something for the local government to decide themselves and not HMRC. Allowing HMRC to dictate the practices of Guernsey's government would be resoundingly unfair."
###