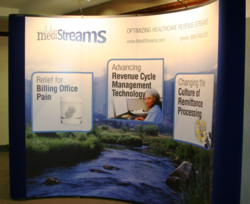 MediStreams works with most of the industry leading patient accounting and practice management systems to deliver payment posting files that meet the specific requirements of our customers.
Roswell, GA (PRWEB) February 28, 2012
MediStreams will be showcasing their remittance automation service at the HBMA Spring Conference in April. HBMA is the perfect forum for the MediStreams remittance automation solution. The solution automates the remittance and posting process, saving thousands of work hours by converting paper payments, from both insurance companies and patients, into electronically processed 835 remittance files.
The MediStreams rules engine standardizes the ERAs and applies specific business and posting rules required to post all data accurately to practice management or billing systems. It provides the visibility of all claims through a secure, online portal with superior reporting and analytical capability. These solutions are ideally suited for medical billing companies, hospitals, clinics, and medical practices who experience significant challenges everyday processing the large percentage of remittance paperwork or EOBs received daily with payments from insurance payers.
MediStreams
MediStreams is a healthcare revenue cycle management company with a focus on streamlining the remittance process. The innovative approach to their implementation process allows them to on-board providers quickly; lowering the barrier to entry for these cost saving services. The MediStreams processing platform adapts to the constant evolution of the healthcare space. The architecture assures high availability while exceeding generally accepted levels of security and compliance standards with SOC 2 Type II and HIPAA audits and fully redundant ISO 9002 data centers. If you would like to learn more about how the MediStreams solution can work for you, visit their website at http://www.medistreams.com or call toll free at (888) ANSI-835.
###