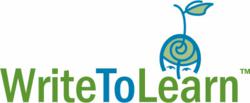 Bloomington, MN (PRWEB) February 22, 2012
With a sharp focus on accelerating student achievement in writing and reading, educators at Johnson County Public Schools in Mountain City, Tenn., recently turned to WriteToLearn®, Pearson's award-winning web-based literacy tool, to support its efforts and help prepare students for the state writing assessment.
In this district of seven schools serving 2,350 students in rural northeastern Tennessee, Johnson County Public Schools principals chose the writing and reading comprehension tool after evaluating the options "and hearing a lot of great things about WriteToLearn," said Mischelle Simcox, the district's supervisor of K-12 Curriculum & Instruction. The district began with grades 5, 7 and 8 and plans to expand the use of WriteToLearn to all students in grades 4-8.
The only online writing tool that provides automated scoring and immediate feedback to improve both reading comprehension and writing, WriteToLearn offers students an engaging and motivational environment for practicing and refining their skills. WriteToLearn provides feedback on six traits of writing – ideas, organization, conventions, sentence fluency, word choice and voice – and allows students and teachers to focus on each of these important dimensions of writing.
"We're excited to see all that WriteToLearn can do for our students," said Simcox. "The scoring abilities, instant feedback, alignment to our state-mandated writing assessment and the fact that it's web-based make it a very valuable tool."
After previously using an online writing tool that was not meeting their expectations, teachers and administrators at Johnson County Public Schools were happy to find WriteToLearn, said Simcox. "The more students typed into [the other product], the better their score was. Of course, we want our students to be better at content, not quantity," she said.
Developed based on more than 15 years of research and evaluation at the University of Colorado and New Mexico State University, WriteToLearn is illustrative of Pearson's overall commitment to collaborating with educators to develop next-generation assessments that will improve student achievement. WriteToLearn aligns with the Common Core State Standards for English/Language Arts by placing strong emphasis on the comprehension and analysis of information texts while building reading and writing skills across genres.
"Educators at Johnson County Public Schools truly understand that a firm foundation in literacy skills will improve their students' achievement across the curriculum, in college and in careers," said Lynn Streeter, president of the Knowledge Technologies group of Pearson, developer of WriteToLearn. "In addition, WriteToLearn will support their efforts as Tennessee is among the first in the nation to build instructional strategies to support their state's adoption of the new Common Core State Standards for English/Language Arts."
For more information, visit http://www.WriteToLearn.net.
About Pearson
Pearson, the world's leading learning company, has global reach and market-leading businesses in education, business information and consumer publishing (NYSE: PSO). For more information, visit http://www.pearsonassessments.com.
For more information: Adam Gaber, Pearson, 800-745-8489 / adam.gaber(at)pearson(dot)com / @apgaber (twitter)]
###