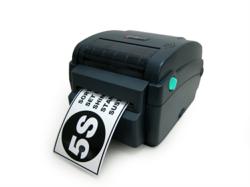 Beaverton, OR (PRWEB) February 23, 2012
LabelTac Industrial Label Printers come is 3 sizes:
LabelTac 4 - $799 - Includes Ethernet connection and is the number one choice
LabelTac 4 Pro $999 Print Speed is faster better quality print and large capacity per a day
LableTac 9 $3,999.00 Prints up to 9 inches
These 3 printers are changing Pipe Marking, Arc Flash labels, NFPA Labels and 5s Labeling. The LabelTac Series is a time tested labeling system that we are always working to improve. The Printer can print a 12 inch label in less then 2 seconds these labels are chemical and scratch resistant.
The LabelTac Labeling System can create, OSHA ANSI Labeling, Safety Signs and Labels, Safety Sign Printer, Facility Labels, 5S Labels and Color Coding, Pipe Labels, Pipe Color Coding labels all from MS Word on a What you see is what you get screen. These simple and easy to use label prints can be up and running on any windows computer in less then 10 minutes. Label Maker can be used in any work place office or school to increase the Visual Workplace and create Visual Safety.
Find out more today by emailing or calling from the information below.
LabelTac
Phone: 1-866-777-1360
email: info(at)creativesafetysupply(dot)com
http://www.labeltac.com
###