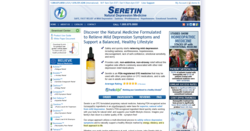 It can be difficult functioning in a society driven almost exclusively by social interaction when you are suffering from depression
Grand Rapids, MI (PRWEB) February 22, 2012
In September 2011, HelloLife released Seretin, a new formula that can help combat Seasonal Affective Disorder (SAD) and mild depression.
Seretin is an FDA-registered natural medicine that quickly starts relieving SAD and mild or occasional depression without the negative side effects commonly associated with other mild depression relief medications.
"Depression, even in its mildest forms, can be a life-altering experience," said CEO and President Albert Duoibes. "Seretin provides a safe avenue of symptom relief for those looking for an alternative to current medications, or are looking to integrate this formula into their current medication regimen."
"It can be difficult functioning in a society driven almost exclusively by social interaction when you are suffering from depression," continued Duoibes. "Seretin can facilitate that first step back into the fold of everyday life."
HelloLife, LLC is an Applied Life Science and Technology company doing business in the fields of health and wellness. The company operates under Good Manufacturing Practices (GMPs). These are strict, federal manufacturing processes of products for human consumption, such as drugs, dietary supplements and food. GMP standards allow total documentation of all processes, from production to distribution ensuring consistency and high quality.
HelloLife is committed to providing safe relief, nutritional support and education for healthy lifestyle choices. Its headquarters are located at 4460 – 44th St. SE, Ste. C 600, Grand Rapids, MI, 49512. Our products are available to consumers via retailers, health care professionals and direct mail. For more information about the company or our products, visit our website at: http://www.hellolife.net.
###