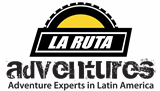 You don't have a tour guide showing you where to look, you're actually living it.
Denver, Co (PRWEB) February 24, 2012
20 years ago on the Rich Coast, perhaps better known as Costa Rica, Roman Urbina had a dream that would be the foundation for a Costa Rica adventure vacations venture. His vision was to lead a small group of mountain bikers across his beloved country in the footsteps of the 1560's Spanish Conquistadors' Juan de Cavallon and Perefan de Ribera. Roman followed his heart and led the modern day expedition across Costa Rica. Nobody could have predicted what his dream would morph into.
Roman's trend setting ride is known today as "La Ruta de Los Conquistadores" and was ranked by Time Magazine as one of the Top 10 Endurance Events in the world. He is not only the founder but also the long time race director celebrating the races 20th edition this year. Thousands of participants from around the globe have fell in love with this epic event.
This modern day adventurer is also one of the world's most accomplished multisport athletes in the world. He has competed in over 100 triathlons (of all distances) 70 marathons, and 20 ultra marathons. Roman was the first person to break a record for swimming non-stop 17 miles across the Gulf of Nicoya, powered by his passion for nature so as to raise public awareness for the endangered leatherback sea tortoises.
By spending just a few minutes with Roman you can't help but catch his contagious passion and love for both sport and adventure. He is a friendly, humble, and sincere man who wears his passion for his country and adventure on his sleeve.
Today Roman is at it again. He has a vision to bring the spirit of his native country combined with the passion of adventure together.
In 1997 Roman met Monica McIntyre (owner of the travel agency LatinExplore) during the La Ruta de los Conquistadores race. With Roman's expertise in adventure and Monica's expertise in travel, they were the perfect fit to join forces and create La Ruta Adventures.
La Ruta Adventures provides adventurers and vacationers with a rare opportunity to experience a unique adventure vacation. Roman has created off the beaten path adventure packages throughout the year for families, couples, and individuals that are suitable for all levels of fitness.
Roman and Monica's launch of La Ruta Adventures begins with the introduction of the first of a series of upcoming epic events: The Jungleman Trail Run. This is a 42k, 21k, 10k, and 5k marathon that will take place in Costa Rica along its beautiful coastline on March 31, 2012.
Whether you are already an adventurer or you're looking for a new experience that will be felt for the rest of your life, La Ruta Adventures has an adventure vacation waiting for you.
###