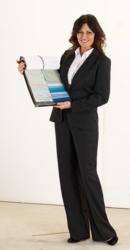 9 out of 10 customers happy to recommend Plumbs to a friend or family member.
(PRWEB UK) 24 February 2012
In a recent survey, Loose Covers, Curtains and Reupholstery specialists Plumbs, asked their customers about their experience of the company's unique in-home service. Despite excellent results in 2010, Plumbs continue to increase their popularity with 9 out of 10 customers happy to recommend their services to a friend or family member.
96.7% of customers expressed their satisfaction with the end product they received, many offering good testimonials and comments of thanks for the Plumbs team.
But it was the Plumbs Home Consultant Team who came out on top in the customers' experience. Consultants were most often described as helpful, efficient and friendly, and 93% scored highly in overall customer satisfaction.
Sarah Page, Managing Director, expresses her delight: "When my mother Ann Plumb first introduced our Home Consultant Service, she insisted they must be honest, trustworthy and of a warm and friendly nature. Exactly the sort of person I'd be pleased to invite into my own home." She continues, "It is a real pleasure to hear that customers are receiving helpful, friendly advice and feel at ease with their local Consultant."
The role of a Plumbs Home Consultant is to arrange a convenient time to visit the customer in their own home and offer free, no-obligation advice and expertise on their fabric choices. Customers have relished the chance to view the Plumbs fabric range at their own pace, against their existing home décor.
Mrs Garside from Stanwick, a Plumbs customer, explains more, "It was fun choosing fabrics in my own house. My Consultant was really helpful when it came to looking at co-ordinating fabrics for my sofa and scatter cushions. A really great service from all."
Plumbs have worked hard to source a wide range of quality fabrics to cater for every taste. Their work seems to have paid off, with the number of customers requesting a greater fabric choice decreasing since 2010.
Despite the good results from this most recent survey, Plumbs endeavour to continue raising the satisfaction of their customers and are constantly searching for new avenues to enhance customer experience.
About Plumbs:
Plumbs have around 150 Home Consultants who will visit homes free of charge. The Home Consultants can recommend an appropriate loose covers solution and advise on room colour co-ordination and any other home furnishings such as upholstery, lose covers for sofas, cushion covers and curtains.
Plumbs have over 350 different upholstery fabric designs and colours to choose from, and a range of materials to suit any piece of furniture.
For further information please contact: Hannah Jones on 01772 838 301 or email hjones(at)plumbs(dot)co(dot)uk
###