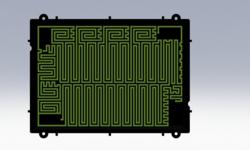 Very challenging, fine line patterns are easily accomplished with LDS
Palatine, IL (PRWEB) February 24, 2012
SelectConnect Technologies has expanded its engineering services to include the design and production of customized hardware security shields used to protect sensitive data.
The fact is data is more vulnerable today than at any other time in history. Physical intrusions are an increasing concern and are on the rise. A robust package protection design can aid in mitigating the concern.
Data thieves have found very creative ways to get sensitive data from:

Secure handheld devices
Thumb drives
ATM PIN entry units
Point of Sale devices
"SelectConnect has been producing LDS hardware security patterns on electronics packaging for over two years, so it was a natural step for us to begin offering secure package design services to speed development", says Richard Macary, President of SelectConnect Technologies. "Having onsite design and engineering services greatly reduces the time required to bridge from prototype to production volumes."
About SelectConnect Technologies:
SelectConnect Technologies manufactures 3 dimensional molded interconnect devices using the LPKF LDS process to laser scribe circuitry on injection molded components and selectively plates circuits integrated on injection molded components produced by the double-shot method.
As the only contract supplier of LDS 3-D MID services in North America, we work on projects from early phase prototype up to high volume production.
According to Stephan Schmidt, President of LPKF USA, LDS is ideally suited for security shielding. "You are disconnecting the mechanical function from the electrical and because you merge them later on the laser you can have any kind of artwork. Very challenging patterns are easily accomplished with LDS and they can easily be changed without the need for a new part."
As part of an overall protection strategy a Laser Direct Structured (LDS) security shield adds essential protection against physical intrusion protecting circuits, electronic components, displays and data input/output hardware connections.
A physical barrier package created by Laser Direct Structuring (LDS) is an important component in an active package protection strategy that is easy to adopt and works in conjunction with software solutions for volume tamper protection.
LDS protection components achieve a high level of physical security where space is often limited. As part of an active protection scenario, an LDS security shield detects physical intrusions by sensing attempts to open, remove or penetrate the component with drills, probes or chemical attack.
LDS takes your barrier design and adds complex circuitry on the inside of the case that is impossible to breach without detection. And since your design is unique, there aren't components readily available for data thieves to deconstruct and find ways to access your data.
SelectConnect Technologies is ISO 9001:2008 certified and ITAR registered.
For more information contact Jim Liddle, SelectConnect Technologies. info(at)selectconnecttechnologies(dot)com or 847.359.1490.
###