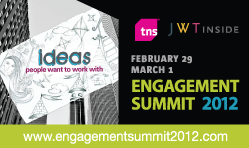 (PRWEB) February 29, 2012
What happens when 100 business leaders come together to discuss today's most pervasive business challenges?
TNS Employee Insights and JWT INSIDE will answer this question on February 29 at their 2012 Engagement Summit in New York City.
Innovative additions to this year's Summit include various "Think Tank" sessions which are designed as participatory discussions and workshops focused on attendee submitted topics and challenges. Together, professionals from Fortune 500, Global 1000, and many other wide-reaching organizations will bring forth their expertise to solve several key human resource, marketing and other business related challenges.
Below is a glimpse of a few Think Tank sessions being facilitated by TNS, as well as best practices from TNS consultants on how to address them:
The Meaning of Engagement:
A dilemma for many organizations is how to tap into productive energy that will take the company to a higher level of engagement and success. According to the TNS normative database, 79 percent of employees in High Performing Companies reported overall satisfaction with their job properly engaging their abilities. Some key factors to unlocking potential include: creating inspiring leaders; identifying skills, attitudes and behaviors that allow colleagues to accomplish individual, team and organizational goals; and showing overall encouragement.
Driving Accountability:
Large organizations often face challenges related to accountability during the action planning stage of the survey process. TNS research asserts that 76 percent of employees report that little to no action was taken based upon the last survey administration. To focus survey based improvement efforts and increase accountability, TNS recommends: developing an understanding and appreciation of survey results; making productive individual, team and organizational changes; and celebrating successes while learning from past mistakes.
Top Talent Quandary:
Many HR leaders and talent managers are facing a "top talent quandary" that is widespread across entire organizations, and which impacts many aspects of the employee life cycle from finding qualified, talented people to keeping them engaged. A global survey conducted by Forbes Insights states that 65 percent of executives reported a high level of concern that top talent and leadership will leave once the economy rebounds. TNS advises talent management leaders to be more strategic and proactive, and inspire team members to plan for possible opportunities in the future.
Correlating Branding and Customer Satisfaction:
As the boundary between internal and external strategies is rapidly fading, companies are paying greater attention to the importance of correlating employee engagement, brand, corporate reputation, and customer satisfaction. A recently completed TNS global panel study illustrates that organizations must focus on brand ambassadorship and the importance of customer perceptions. These factors are viewed as multiple expressions of an organization's core; as a result, TNS consultants advise organizations to break down silos between HR and marketing; assess employee and customer engagement measurements as facets of its core identity; and look at social media to track what is being said about the organization.
So what happens when 100 Business leaders come together? Find out in the upcoming series of Think Tank publications from TNS as their consultants compile the suggestions, perceptions, and expertise gained from business professionals taking part in this year's Summit.
Publications will be released on a weekly basis, beginning March 1, and will present the strategies and suggestions developed around these key topics.
This analysis is just the beginning; so stay tuned to TNS Employee Insights webpage or #2012ES on Twitter for more detailed information and statistics regarding the issues plaguing organizations today.
###