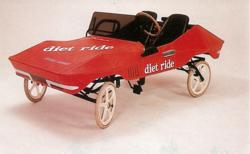 Spare bike parts and the monotony of the social norm have led to innovation.
Duluth, MN (PRWEB) February 23, 2012
Gizmoplans has been releasing DIY plans and projects for years and the addition of 4 wheel bike plans expands their pedal car plans offerings into the luxury category. These recently released plans allow a person to customize and embellish a lightweight, two passenger, pedal powered, canvas vehicle.
Spare bike parts and the monotony of the social norm have led to innovation. The Red Corvette Pedal Car, also known as the "Diet Ride," was recently released by the DIY internet site, Gizmoplans.com. This unique plan allows a person to use the parts of a twelve-speed or ten-speed bicycle to create a two-passenger, non-motorized vehicle for recreational purposes. This vehicle is meant to encourage physical exercise while being used for recreational purposes.
The frame of the car is constructed of a lightweight metal conduit. The frame is brazed or welded using tools that can be found by a local supplier. Additional information is included in the 4 wheel bike plans on the tools to use and how to assemble the frame. A cover is then created using Aqualon Marine fabric (also easily accessible). Using this canvas-type material, the covering will easily conform to the shape of the constructed frame. The wheels for the vehicle come from spare bicycles. Brakes for the rear wheels are made of the 2 caliper type brakes from a standard bicycle, although disc brakes or in-board drum brakes on all four wheels can make for a better system. The vehicle requires a 12 volt motorcycle battery in order to power the brake lights or any other additional accessories, but is otherwise pedal powered. These pedal car plans promote clean air, physical exercise, and good health for the user(s).
The 4 wheel bike plans for creating a pedal powered corvette are easy to follow professionally designed plans and very informative. Not only do they explain how to assemble the vehicle, they also give detailed information on where to purchase parts and how to obtain them at a discount. Because the Red Corvette Pedal Car is a non-motorized vehicle, it does not require a driver's license and is under the same road rules and regulations as a normal bicycle. For more information on this custom plan, visit the Gizmoplans website.
About Gizmoplans
Gizmoplans is an online informational website that provides businesses and individuals with downloadable DIY solutions. These plans can be used to build projects for recreation, hobbies, recycling, industry, woodcrafts, metal fabrication, alternative energy and much more. Gizmoplans is also a hub for businesses and individuals to upload and sell their own plans, patterns, how-to ebooks and more. This online marketplace can benefit both the purchaser and the seller in the DIY community. To get more information on DIY plans and DIY projects, visit Gizmoplan's website at http://gizmoplans.com/.
###