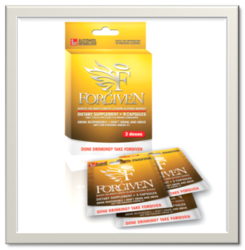 We custom built this bus tour so that Forgiven would be where people need it most
Las Vegas, Nevada (PRWEB) February 24, 2012
Forgiven has announced that they will promote their alcohol metabolizer, which is distributed through RH Laboratories, with a major bus tour reaching millions of young adults this spring.
The tour will kickoff March sixth in South Padre, Texas and continue on to events like Spring Break at Daytona Beach, SXSW in Austin, Texas, and the Surf N Sound Festival in Ft. Myers, Florida.
MTV celebrities from The Challenge and top MMA fighters will travel aboard the bus, making appearances or hosting parties at each of the key events. Between the larger events the talent will host more intimate parties, like The Challenge viewing parties promoting Forgiven and the tour's other sponsors, Head Rush Apparel and Mentom Eyewear. Traveling with them will be a full-time photographer/videographer capturing all the action and excitement.
"We custom built this bus tour so that Forgiven would be where people need it most," said Forgiven Bottling Group President, Chas Aday. "We want people to have the time of their lives and then wake up feeling great the next morning. And making that happen is what this tour is all about."
About Forgiven Bottling Group
Chas Aday and TJ Lavin formed Forgiven Bottling Group in 2009. Their product, Forgiven, is the first and only product on the market that has been shown to increase the rate at which the body processes alcohol. In the initial clinical trial, the average increase in metabolic rate was over 500 percent. The product's proprietary blend of all-natural ingredients includes organic acids, amino acids, vitamins, and herbs that increase the body's metabolic rate while restoring the necessary amounts of essential vitamins and nutrients.
About RH Laboratories
RH Laboratories manufactures RockHard Weekend, an all-natural male sexual performance enhancer as well as Pandora, an all-natural sexual enhancer for women. RH Laboratories is constantly using innovative techniques to promote their products not only as supplements but also as a lifestyle. In addition to the products RH Labs manufactures, they are the exclusive distributor of Forgiven, the world's first alcohol metabolizer.
###