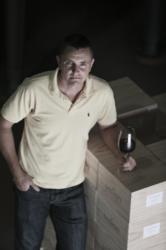 Rod is an immense talent and we're delighted to be investing in such a big name, which is a step-change for the business and testament to what we've achieved to date.
(PRWEB UK) 23 February 2012
Award-winning New Zealand winemaker Rod Easthope has today announced he'll be making an exclusive range of wines for online UK wine retailer Naked Wines, funded directly by the retailer and its 100,000 Angel customers.
He will also act as a consultant winemaker for other New Zealand producers working with Naked Wines.
"It's been a lifelong dream to be my own boss, and the Naked Wines' model is finally making that dream come true," explained Rod. "I've had a fantastic seven years at Craggy Range, but I'm really excited to join the Naked team, get started on a new project, and produce an exclusive range of wines under my own name – at scale. I know where all the best grapes are hiding, and now I have the backing to put them to best use and share them with the UK public."
Rowan Gormley, Naked Wines Founder and CEO added:
"Rod is an immense talent and we're delighted to be investing in such a big name, which is a step-change for the business and testament to what we've achieved to date. With our Angels investing over £2million a month towards future orders, their reputation is spreading and we've got some exciting winemakers knocking on our door."
Rod is leaving his full-time role as Chief Winemaker at the iconic Craggy Range winery at the end of May in order to spend time on the new Naked Wines project, but will continue to act as a consultant winemaker for Craggy Range going-forward.
Rod's first two Naked wines, a Sauvignon Blanc and a Pinot Gris made from Hawke's Bay fruit, are expected to hit UK shores in October, but Angels can pre-order twelve bottles at http://www.nakedwines.com/marketplace as of 23rd February, with a 50% saving. Rod also has plans to make Pinot Noir from Marlborough and Central Otago.
During his time at Craggy Range, Rod and his team scored over 90 plus parker points for 11 of its wines in the past year alone.
Independent winemakers looking for funding to break into the UK, can apply to work with Naked Wines at http://www.nakedwines.com/suppliers
Naked Wines has recently recruited their 100,000th Angel, customers who invest £24million a year towards future orders.
NOTES on Rod Easthope:
Rod Easthope, who's spent the last seven years as Chief Winemaker at Craggy Range, grew up working on vineyards in the Dartmoor Valley of Hawkes Bay, New Zealand – which nurtured his fascination with wine.
He studied a wine science degree at Roseworthy College in South Australia, the leading institution for oenology and viticulture at the time – and then learnt his trade with stints in Australia, New Zealand, South Africa, Italy and France.
It was during that time that he met the people who affected the grower he is today, including Peter Dry, Steve Smith MW, Phil Freese, Matt Thomson, Kym Milne MW, John Belsham, Alex Dale and Michael Dridjohn.
Rod also launched his own label called Easthope Winegrowers Ltd with his wife Emma in 2009, where they produce a small range of premium, eclectic wines – but this will remain a separate venture to his project with Naked Wines.
NOTES on Naked Wines:
Naked Wines, the UK's fastest growing online wine retailer, was born in December 2008 when twelve friends jacked in their jobs during the depth of the recession to do things a little differently.
Our goal: Find the world's most talented, undiscovered winemakers and set them up in business.
How we go about it:

100,000 customers invest over £2m a month towards future orders (we call them 'Angels')
Which we use to fund independent winemakers
In return for exclusive wines at preferential prices
Which we pass back to our customers
We call it the 'virtuous circle', as everybody gets more for less, without trampling on anyone along the way.
The hard and fast facts:
If you're looking for something a little meatier, this should help:
We've invested in 40 independent winemakers to date
We ship an average of 10,000 bottles of wine every day
We've seen over 100% growth year-on-year, with sales of £23.5 million in 2011
We've recruited 200k customers, 100k of which invest over £2m a month towards future orders
We were named the UK's most innovative wine company for two years on the trot, at the IWC
We were named the UK's Online Business of the Year at the 2011 National Business Awards
And we're probably the world's largest group of net wine investors
A truly social business:
As well as the model itself, the website delivers a truly social experience.
Customers can chat directly to one another and to the winemakers.
Customers can vote with their feet on new initiatives and wines, to decide what makes the cut.
And we tell customers what to buy AND what not to buy, based on their preferences.
The team:
The man at the top is Rowan Gormley, former Virgin Wines and Virgin Money CEO, and our non-executive director who keeps us in check is Ian West, former BSkyB MD. The rest of us are an assorted bunch of 50 wine and tech-loving employees based in Norwich.
###