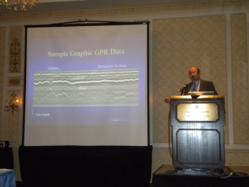 (PRWEB) February 22, 2012
Infrasense is pleased to announce its recent participation in the Transportation Research Board's 91st Annual Meeting, held last month in Washington, D.C. The meeting addresses topics in all fields of transportation, from marine and aviation research to policy-making and planning techniques, and typically attracts more than 11,000 professionals interested in the transportation industry. At the recent meeting Infrasense President Dr. Ken Maser, presented some of the firm's latest research in the field of Ground Penetrating Radar (GPR) and its use in pavement and concrete bridge deck evaluation.
The 91st Annual Meeting marks the 22nd time Infrasense has attended, contributing technical papers and presentations at 20 of them. This year Infrasense submitted three technical papers, each of which was presented by Dr. Maser at different technical sessions. Additionally, Dr. Maser was listed as an author on a fourth technical paper, submitted by the University of Minnesota, for which he contributed expertise in ultrasonic testing of pavements.
The three technical papers submitted by Infrasense are the product of three uniquely different projects: an ongoing research effort with Northeastern University (NU); the development of a proprietary software to simplify large quantities of data analysis; and a service project performed for the Montana Department of Transportation (MDT). The research effort with NU focuses on detecting bridge deck deterioration using GPR. The project involves testing on an actual bridge deck slab that was taken from a bridge replacement project in Maine, allowing researchers to freely perform a variety of tests on a deteriorated sample. The paper shows how well the various test methods correlate, and provides insight into future methods for data interpretation. The second paper presents an evaluation of proprietary Infrasense software, GPRAP, designed to automate GPR pavement layer analysis and provide enhanced capability and productivity to operators combining Falling Weight Deflectometer (FWD) data with GPR measurements. The technical paper focuses on a comparison of the automated and manual methods to illustrate the effectiveness of the software. Infrasense's final paper focuses on a study conducted for the MDT to assess the accuracy of GPR pavement thickness measurements and how that accuracy impacts subsequent pavement rehabilitation design. The results show significant improvement in rehab designs using GPR as compared to using as-built plan data.
This variety of projects reflects the commitment of Infrasense to further enhancing the knowledge of its engineers and the capabilities of GPR technology. Infrasense has been a leader in GPR technology in pavement applications for the past 25 years, and looks forward to sharing its knowledge, and learning from colleagues, at future TRB Annual Meetings.
About Infrasense, Inc.
Since 1987, Infrasense, Inc. has applied the most current technologies to the most difficult challenges in subsurface scanning. Infrasense's engineers are able to nondestructively extract critical information from a diverse range of structures. The firm has conducted research to advance the field of subsurface detection, while also providing valuable information to clients across the country. Learn more about Infrasense, Inc. and its services at http://www.infrasense.com.
###