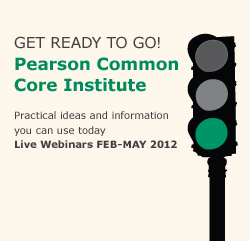 New York, NY (PRWEB) February 22, 2012
Pearson, the world's leading learning company, announced today a series of webinars designed to help educators prepare for the implementation of the Common Core Standards, to be held every Tuesday and Thursday from 5:00 to 6:00 pm ET from now through May 10, 2012. This "Get Ready To Go!" series will provide an understanding of the goals of the Standards, why they are important, and their implications for continued student success.
To register, visit http://commoncore.pearsoned.com/index.cfm?locator=PS11Tb.
Specific areas of focus include: What types of professional development will be necessary for changes in English Language Arts and Math; how the Standards will affect the transition to online assessments; a close look at the goals, timelines, and sample test questions of the SMARTER Balanced Assessment Consortium and the Partnership for Assessment of Readiness for College and Careers; connecting the Standards to improved teacher effectiveness and learning; and developing academic language and content knowledge for English Language Learners.
Featured Speakers And Topics Include:

Dr. Maureen McLaughlin, President-elect, International Reading Association; Brenda Overturf, PD consultant, former District Reading Coordinator, Jefferson County Public Schools (Louisville, KY)
10 Important Things We All Need to Know about the Common Core

Ken Kay, CEO, EdLeader21; Valerie Greenhill, Chief Learning Officer, EdLeader21
The 7 Steps Toward 21st Century Schools and Districts

Dr. Mary Ellen Vogt , Professor Emerita of Education at California State University, Long Beach; Debbie Short, Senior Research Associate at the Center for Applied Linguistics in Washington, DC
Developing Academic Language and Content Knowledge in English Learners

Jesús Cervantes, ELL Author/Specialist
Common Core Standards and ELLS

Nicole Franks, senior content developer of literacy training and professional development for Pearson School Achievement Services
What Type of PD Will Be Necessary for Changes in Instruction in ELA?

Debbie Crawford, mathematics professional development program manager for Pearson's School Achievement Services
What Type of PD Will be Necessary for Changes in Instruction in Mathematics?

Brad Ermeling, Senior Research Associate, Executive Director, Pearson Learning Teams
The Implementation Challenge: Connecting CCSS to Improved Teaching and Learning

Laura Beltchenko, Associate Superintendent, CUSD #118, Wauconda, IL
Productive and Thoughtful – Creating a Vision for Common Core Standards Implementation

Bryan Bleil, VP, Online & Technology Implementation, Pearson
Transition to Online Assessments as Part of Common Core

Dr. Julie Miles, Director of Psychometrics and Research Services, Pearson
The ABCs of Assessments – PARCC
The ABCs of Assessments – SBAC

Ann Borthwick, VP and Architect, School Achievement Services
Academic Transitioning into CCSS – Increasing Expectations and Support
Contact: Kate Miller, kate.miller(at)pearson(dot)com; 800-745-8489
About Pearson
Pearson, http://www.pearsoned.com, has as its mission to work side-by-side with states, districts, teachers, students, and parents to ensure that every child is prepared for college and career (NYSE: PSO).
###