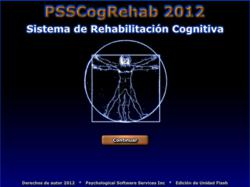 Psychological Software Services Inc. is the pioneer and still world leader in the development of effective and efficient, evidence-based clinical applications.
Indianapolis, IN (PRWEB) February 24, 2012
Available in Spanish for the first time, the eight software modules in the PSSCogRehab 2012 systems (English and Spanish) include some sixty-seven computerized therapy tasks in a comprehensive professional, clinical system for cognitive rehabilitation therapy for those patients or students with compromised brain function from brain injury, stroke and other neurologically based anomalies. The modules address problems with attention, executive functioning, memory, problem solving and communications skills.
The PSSCogRehab System has evolved over a 30 year time span and has been used in over 5000 treatment facilities from around the world. Published (peer-reviewed) research evidence clearly shows the effectiveness of this tool when used properly in a well formulated treatment program. Please visit our website, http://www.psychological-software.com, and check out PSSCogRehab 2012 and all of our other clinical applications software. An annotated bibliography of published research is included on the website.
###