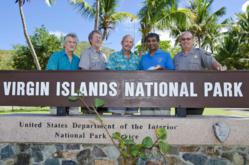 "Thanks to Eco Serendib, native plantings will be brought back to offer protection, combat carbon emissions as well as bring welcome shade for St. John beach visitors." Mark Hardgrove, superintendent of Virgin Islands National Park
ST. JOHN, USVI (PRWEB) February 23, 2012
Eco Serendib Villa and Spa, a new eco-friendly, luxury retreat on U.S. Virgin Islands' St. John, has initiated a conservation program in partnership with the Friends of the Virgin Islands National Park to save the island's pristine beaches from the devastating impact of erosion while reducing the carbon footprint. The Eco Serendib Beach Restoration Project will re-introduce indigenous trees and shrubs, such as sea grape, at beaches throughout the island and is funded by Eco Serendib Villa and Spa. In addition to providing seed money to kick start the program, the Restoration Project will sponsor one tree per day of each reservation in the name of guests. Villa guests will have the opportunity to become involved hands-on with the green project should they wish and may also contribute directly to the Friends of the Virgin Islands National Park fund.
"St. John's coastline features some of the most beautiful and pristine beaches in the world and is one of the most compelling draws of the island," said Mark Hardgrove, superintendent of Virgin Islands National Park. "However, over time the effects of erosion can be catastrophic. Thanks to one of the island's visionaries, native plantings will be brought back to offer protection, combat carbon emissions as well as bring welcome shade for visitors."
"Our organization is committed to supporting our prized national resource," added Joe Kessler, president of Friends of the Virgin Islands National Park. "The Eco Serendib Beach Restoration Project is just the type of vital, privately-funded program we encourage and are proud to make a reality."
Harith Wickrema, the visionary behind Eco Serendib Villa and Spa, fell in love with St. John upon his first visit. "When I debuted Eco Serendib last year, it was with the commitment that I would not only offer an experience melding luxury with green elements, but also give back to this amazing island where 2/3 of the land has been preserved as a national park," explained Wickrema. "I learned from Rafe Boulon, chief of the national park's Division of Resource Management, about the issue at area beaches. We're honored that we can be of service and hope this project inspires others to do the same." Wickrema is also president of Philly-based Harith Productions and faculty member of Temple University's School of Tourism and Hospitality Management where he teaches a course on sustainable event management. He was recognized by Lodging magazine as one of the top ten innovators of 2011 in the area of sustainability for his efforts onsite at Eco Serendib Villa and Spa. He's also a past recipient of the Successful Meetings and Meeting News Greenest Planner Award and a trustee of the Green Meeting Industry Council's Sustainable Meetings Foundation.
"We're thrilled to have the support of Eco Serendib in preserving our beaches," commented Boulon. "Harith actively sought out a way to contribute and his commitment to social and environmental responsibility is to be admired. Maho Bay Beach will be the first beach to benefit from the Eco Serendib Beach Restoration Project, with future work planned at Cinnamon Bay, Trunk Bay, Hawksnest, Saltpond and Little Lameshur."
Gary Ray, Ph.D., a restoration ecologist and proprietor of Virgin Forest Restorations, an eco consulting firm, has drawn up the plans and will oversee the Eco Serendib Beach Restoration Project under the guidance of the Virgin Islands National Park. "We'll be planting native trees such as sea grape, nothing nut, orange manjack, black torch and barbasco. The idea is to restore plant species native to the Virgin Islands while discouraging invasive exotics. Vigorous natives better control erosion. We will create areas of shade and new walkways to ensure foot traffic doesn't damage dunes," said Ray, who studies rare plants and is a former faculty member at University of the Virgin Islands. "Guests of Eco Serendib will also be able to participate in the efforts including tours, demonstrations and even hands-on planting, cultivating and irrigation."
About Friends of the Virgin Islands National Park:
The Friends of Virgin Islands National Park (Friends) is a 501(c)(3) non-profit organization dedicated to the preservation and protection of the natural and cultural resources of Virgin Islands National Park (Park) and promotes the responsible enjoyment of this unique national treasure. As the official private sector partner to the Park, the Friends is a membership organization that raises funds from individuals, corporations and foundations to support projects important to the Park and to further the mission. http://www.friendsvinp.org.
About Eco Serendib Villa and Spa:
Eco Serendib Villa and Spa, which celebrated its grand opening in November 2011, sets new standards for eco-friendly luxury on St. John in the USVI. With eight elegant suites, a full-service spa, organic "seed to plate" garden and all the amenities and services of an exquisite private residence, Eco Serendib offers a sumptuous and serene home-base. Green elements include solar panels, rain water harvesting, eco materials in design, energy-efficient appliances, grey water irrigation and more. Eco Serendib was chosen to be among the elite auction items during amfAR's Inspiration Gala LA attended by such celebrities as Sandra Bullock, Sinéad O'Connor, Deborah Harry, Colin Farrell, Sean Penn, Andy Cohen and Selma Blair. Visit http://www.ecoserendib.com.
About Virgin Forest Restorations:
Virgin Forest Restorations is an ecological consulting firm that conducts research and biological surveys. A new spinoff business is Virgin Forest Nursery, a sustainably designed plant nursery whose aim is to bring home-grown natives to the ornamental trade and raise awareness of our native flora. Importation of exotic and native plants from sources outside our islands has brought pathogens and infectious insects to our islands as permanent residents, damaging our natural forest communities as well as the planted environments around our homes. This best-alternative source of native ornamentals will allow us to slow infestations from abroad while providing an ecologically-sound alternative.
###