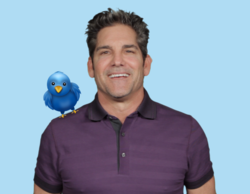 My mission is to positively affect the lives of the 7 billion people on this planet and if I offend some of them along the way so be it.
Los Angeles, California (PRWEB) February 22, 2012
New York Times, WSJ and Amazon best selling author and international sales training expert Grant Cardone was ranked atop Evan Carmichael's Top 100 Sales Experts to Follow on Twitter. Carmichael vaulted Cardone to the number 1 position of recommended sales experts in a class that includes luminaries such as Brian Tracy, Tom Ziglar, Harvey Mackay, Tom Hopkins, Jeffrey Gitomer and many more. This is a testament to Cardone's commitment to providing the most up-to-date and relevant information for this challenging economic time.
Cardone's Tweets are written to empower managers, organizations and everyday people with the knowledge, attitude and tools required to achieve financial success in today's "real" marketplace. Followers of @grantcardone are motivated with a steady flow of thought provoking content from his rich cache of sales tips, videos, blogs, and articles that rivals the publishing efforts of news outlets.
"It's is an honor to be a source of inspiration to my 100,000 strong followers on Twitter and I appreciate Evan Carmichael's acknowledgement of my efforts," said Grant Cardone. "Sales people, organizations and entrepreneurs are using Twitter and Facebook to get information on-demand to help them stay focused, motivated and equipped to close the sale."
"When Grant Cardone tweets, I always take a moment to check it out, ALWAYS!," said Tony Rocha, CEO, Casetronyx. "Grant's followers get advice that others pay big money to schooled on for free."
"Experts have warned me that I could lose followers due to the directness and sharpness of my tweets," said Cardone. "My mission is to positively affect the lives of the 7 billion people on this planet and if I offend some of them along the way so be it. Twitter has been an indispensible to building up a solid foundation of followers that want to know the truth."
Cardone has also become a leading voice on YouTube. His videos on sales provide viewers with invaluable insights, tips and glimpses into his sales meetings and seminars to organizations the world over. One of his first videos, Sales Training Inspiration has been viewed over 100,000 times.
Since the 2008 financial crisis, Cardone has been a regularly seen on Fox News, Fox Business, NBC, MSNBC, CNBC, CNN and Bloomberg providing individuals and businesses real advice on what they must do to flourish and prosper in this economy. Cardone also produced and starred in his own reality television show, TurnAround King, entering struggling companies and demonstrated simple strategies for turning around their businesses and was featured on a segment of Selling LA and How Did You Get So Rich and is the host of The Cardone Zone, a soon to be nationally syndicated regional radio program.
###