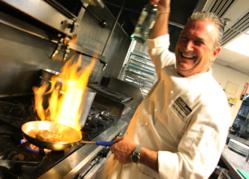 "The best restaurant you've never heard of." -- Los Angeles Daily News
PASADENA, CA (PRWEB) February 23, 2012
It's been quite an impressive beginning for The StillRoom (http://www.stillroomla.com) Seafood Restaurant & Lounge. After opening in late December, the restaurant quickly became one of Pasadena's hottest eateries and one of L.A's best-kept secrets.
It's a secret no more. Merrill Shindler, the top food critic for the Los Angeles Daily News and the San Gabriel Valley Newspaper Group, KABC radio host and the editor of the Los Angeles Zagat Survey has written an overwhelmingly positive review of The StillRoom.
Writes Shindler (http://www.bit.ly/stillroomla)
--"The StillRoom is probably the best restaurant you've never heard of."
--"Home to Chef Sam Goldman who is bringing the gospel of seafood flan with lobster sauce, steamed mussels "Sailor Style," and grilled monkfish "In the Swim" to a fish-deprived corner of the San Gabriel Valley, in a room notable for its red walls, ornate bar, and miles of polished wood -- an elegant style."
--"There's a seafood flan that's not quite a quenelle, not quite a pudding, but, like the chowdah, a dish in which the seafood has been reduced to its molecular level. It comes with a lobster sauce that would make my Nikes taste good."
--"If you want to immerse yourself in his seafood, there's a grilled monkfish in a seafood broth…I like monkfish, but it can be poorly used, overcooked till it turns to mush. Goldman respects his fish; his monkfish has a lovely bite. It's just right."
--"For those who don't want seafood, there's house-made mozzarella with roasted red peppers, an arugula and fennel salad, roast chicken with shallots, a New York steak with mushroom gravy, and Moroccan style vegetables. I'm sure there'll be more; Goldman is just getting started."
Shindler is the most prominent voice raving about The StillRoom, but far from the only one. After a barrage of 5-star reviews, OpenTable.com awarded The StillRoom its Diners' Choice Award.
From patron reviews on Yelp and OpenTable:

"Truly is a neighborhood gem… Treat yourself to the lobster flan--the best rendition of a lobster bisque I've had."
"The mussels were among the best I've ever tasted."
"The scallops are amazing…Brilliance and love on the end of a fork."
Under the direction of award-winning Executive Chef Sam Goldman, The StillRoom offers dinner five nights a week and a spectacular Sunday brunch. Listen to live jazz on Wednesday and Saturday nights, and during Sunday brunch.
To see the menus, visit http://www.stillroomla.com. For reservations, visit OpenTable.com or call the restaurant at 626-799-0700.
Twitter@stillroomla
The StillRoom Seafood Restaurant and Lounge, 181 East Glenarm Street, Pasadena, CA 91105.
###