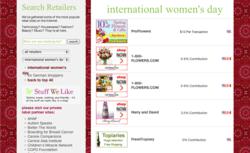 Anaheim, CA (PRWEB) February 23, 2012
Cause-shopping engine nonprofitshoppingmall is increasing its marketing support to its participating non-profit organizations by expanding and enhancing niche market opportunities.
President Corine Couwenberg: "Through our on-going research and dialogue with our partners we have learned that motivating supporters on a year-round basis is a challenging task. We are trying to encourage the practice of online consumer philanthropy as an everyday action, not just a Holiday season special. Therefore, we are increasing efforts on our end to assist our participating non-profits with year-round marketing support. International Women's Day is commemorated by the United Nations and celebrated around the globe and we support many organizations that support women. In many countries, IWD is becoming more important than Mother's Day or Valentine's Day. Men honor the special women in their lives by celebrating and gifting them. We needed to address this trend. We will mark March 8 on our personal calendars to celebrate the achievements of women and promote support of girls and women in all countries and cultures."
The dedicated IWD Shopping pages feature shops and items that address women's tastes and needs. Furthermore, the chosen retailers offer very fair percentages that will benefit the chosen non-profits.
The page URLs are:
United States: http://nonprofitshoppingmall.com/shop/index/613
Canada: http://nonprofitshoppingmall.com/shop/index/615
EU/United Kingdom: http://nonprofitshoppingmall.com/shop/index/614
The following non-profit organizations on nonprofitshoppingmall benefit women's causes: Boarding for Breast Cancer, Global Fund For Women, Lotus Outreach International, National Fibromyalgia and Chronic Pain Association, Omid Foundation, Ovarian Cancer National Alliance and Rape, Abuse, Incest National Network.
###