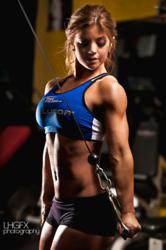 "We're excited, we know CellucorTV will deliver valuable training insights, ideas and information—we're a brand committed to getting our followers results."
Bryan, TX (PRWEB) February 22, 2012
Cellucor is proud to announce the signing of WBFF Pro Fitness Model Jen Jewell as the brand's premier female athlete and spokesmodel. Jen Jewell is Cellucor's first major athlete signing, further fueling the Facebook and Twitter excitement that the company is preparing to launch a free training and nutrition resource, dubbed CellucorTV.
Jen Jewell exploded onto the fitness competitor scene just last year, earning her WBFF Pro Card in her first competition, followed by an impressive 6th place finish at the WBFF World Championships last August in Toronto.
Jen Jewell is already an accomplished fitness writer and celebrity trainer with a professional background deeply rooted in marketing and sales, making her a valuable and versatile addition with unlimited potential.
"Jen has it all, we're very excited for this partnership. She is one of the very rare athletes who possesses functional strength and training knowledge, fitness success, and the ability to tell her story and help others reach their goals," commented Cellucor's Director of Communications, Daniel Lourenco.
Jen Jewell will headline CellucorTV accompanied by National-Level Strongman Competitor Colton Leonard, who directs Cellucor's industry leading Customer Service department and Daniel Lourenco, Cellucor's Editor-in-Chief and Communications department head who is making his WBFF competition Debut April 14, 2012 at the Fitness Atlantic Championships. CellucorTV will also feature contributions from some of the top names in the business, including Mike Gillette, tactical trainer and extreme performance coach, and Mike Wolfe, a bench-press expert and longtime Westside Barbell veteran.
"We practice what we preach," said Lourenco, "Our customers and fans can have total confidence in the work and research that goes into our products, projects, and service because we're athletes, supplement fans and users too— we're building this company, brick by brick, not only for our fans, but for ourselves."
CellucorTV aims to be an industry leading 'fit-lifestyle destination' comprised of innovative, exciting video series, a video database of exercises, both new and traditional, healthy, tantalizing recipes, training/lifestyle articles, personal blogs as well as tools to interact with Cellucor like never before.
"We're excited, we know CellucorTV will deliver valuable training insights, ideas and information—we're a brand committed to getting our followers results."
Fans can meet Jen Jewell and the rest of the CellucorTV crew next week at the Arnold Sports Expo in Columbus Ohio, March 2-4, 2012 where the trio will be filming all weekend long. Cellucor will also be featuring huge giveaways, contests and exclusive Expo-only product specials on C4 Extreme and the brand's newest diet product, Super HD. Visit Cellucor's Facebook or Twitter for updates on the launch of CellucorTV and other upcoming article/video series.
Cellucor products can be found at GNC, Bodybuilding.com, and select retailers internationally. Visit http://www.Cellucor.com to learn more.
###