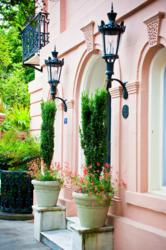 The premier event of its kind in the country offers visitors the rare opportunity to venture inside nearly 150 of downtown Charleston's grandest and most historic private residences and gardens district during peak blooming season.
Charleston, S.C. (PRWEB) February 28, 2012
Historic Charleston Foundation, a nonprofit organization with a mission to preserve and protect the integrity of Charleston's architectural, historical, and cultural heritage announced the celebration of a landmark anniversary with its 65th annual spring Festival of Houses and Gardens to be held March 22 - April 21, 2012. The premier event of its kind in the country offers visitors the rare opportunity to venture inside nearly 150 of downtown Charleston's grandest and most historic private residences and gardens district during peak blooming season. The Festival of Houses and Gardens offers visitors house and garden tours, musical concerts, educational luncheon lectures, wine and spirit tastings, harbor boat cruises, plantation picnics with oyster roasts, and morning history walks.
Daily house and garden tours (tickets: $45)
Each tour will feature eight to 14 historic properties in Charleston's earliest neighborhoods. Visitors will enjoy beautiful architecture and lush blooming gardens woven throughout the fabric of Charleston, while on the following tours:

Glorious Gardens (March 22, 29 & April 5, 12, 19; 2-5 p.m.)—Among the Festival's most popular events, these afternoon tours feature the exquisite gardens for which Charleston is renowned. These tours include a wine and lemonade reception in the garden of the Nathaniel Russell House, 51 Meeting Street.
Meeting Street (March 23 & March 26; 2-5 p.m.)—Residences in this neighborhood date from the earliest period of English settlement on the peninsula and are among the largest, more imposing dwellings built in the Greek Revival and Italianate fashions.
Legare Street (March 24 & March 27; 2-5 p.m.)—In the prosperous decades preceding the American Revolution, some of the finest mansions of the city were built in this area.
South Battery (March 25 & March 28; 2-5 p.m.)—Construction of the postbellum era includes fine Victorian houses as well as early 20th century waterfront mansions that preside over the harbor.
Wentworth Street (March 30 & April 2; 2-5 p.m.)—Some of the city's finest examples of Federal, Regency, Greek Revival and early Victorian architecture are found in this neighborhood.
Church Street (March 31 & April 3; 6-9 p.m.)—Often called the "most romantic street in America," Church Street is a visible record of Charleston history.
Anson Street (April 1 & April 4; 2-5 p.m.)—Many of this neighborhood's antebellum houses were built in the years between the Great Fire of 1838 and the outbreak of the Civil War.
Hidden Gardens (April 7; 2-5 p.m.)—Venture through wrought iron gates and down shaded brick pathways, where visitors will see breathtaking garden "rooms." This tour includes a wine and lemonade reception in the courtyard of The Shops of Historic Charleston Foundation, 108 Meeting Street.
King Street (April 9 & April 13; 2-5 p.m.)—Untouched by the great fires that ravaged Charleston; this neighborhood boasts architecture from early Georgian to late Victorian, from more modest artisans' houses to grand townhouses.
Houses and Sites of the Revolutionary War (April 10 & April 14; 2-5 p.m.)—This tour features houses, gardens and historic sites associated with the people and events of the Revolutionary War era, when residents of "Charles Town" fought bravely to emerge as citizens of "Charleston."
French Quarter (April 11 & April 16; 2-5 p.m.)—Part of colonial Charles Town's original "Grand Modell," this charming area was first called the French Quarter in 1873.
Tradd Street (April 17 & March 20; 6-9 p.m.)—This neighborhood contains the greatest concentration of early 18th century houses in the city.
East Battery (April 18 & April 21; 2-5 p.m.)—Colorful harbor-side dwellings are intermingled with imposing antebellum mansions.
Musical Concerts (tickets: $25)
Each concert, from 5:15 – 6:30 p.m. during the Festival, is a unique opportunity for guests to experience period music in an intimate, historic setting with inspiring and informative musical interpretations:
Beethoven on Church Street (March 26)—Features piano sonatas by the master composer played in First Baptist Church, c. 1822.
Ol' Time Bluegrass (April 4 & April 16)—Music from South Carolina Broadcasters trio will be heard at St. Stephen's Church, c. 1835 (April 4) and at Circular Congregational Church, c. 1892 (April 16).
Jazz in the French Quarter (April 18)—Soulful sounds of American jazz played by Leah Suarez and Company at the Historic Dock Street Theater, c. 1736.
Educational Luncheon Lectures (tickets: $45)
This series of entertaining and educational presentations features different speakers daily along with a casual lunch. Participants will also enjoy a brief tour or hands-on experience relating to the day's topic.

Charleston Architecture: The Presence of Place (March 27)—Hear about Charleston's renowned architecture and understand how it continues to shape the city's "presence of place" in the past and present.
Mavericks, Mothers and Mavens: The History-Making Women (March 28)—This lecture focuses on Charleston's history-making women and their tales, trials and tribulations.
The Heat Is On: Flora for Summer Gardens (March 29)—Learn how to have a colorful and successful summertime garden amidst hot and humid weather.
Charleston in Bloom (April 5)—Hear the secret to what makes Charleston gardens so special and unique.
The Notorious Exploits of Three Female Pirates (April 9)—Three real-life pirates, who happened to be women, will be revealed in this lecture.
What's Cooking in the Lowcountry? (April 10)—Join the chef instructors of Charleston Cooks! as they share culinary secrets of local Charleston cuisine as well as a historical perspective of the food ways and staples of the Lowcountry.
Charleston's Ironwork: An Art Form All Its Own (April 12)—Ironwork is a hallmark of many signature Charleston garden designs and this lecture identifies and explains some of the city's finest.
Fakes and Forgeries: How to Distinguish Real Antiques (April 13)—The secrets of how to spot a forgery or know a real treasure will be exposed in this lecture.
Churches, Synagogues and Graveyards (April 19)—This lecture explores the incredible history of Charleston's historic houses of worship, as well as the graves of those whose final resting places are in the Holy City.
Wine & Spirit Tastings (tickets: $35)
Guests will discover why Charleston is known for its culinary arts while tasting wine & spirits with paired hors d'oeuvres.
Circa 1886 (March 30 & April 2; 5:15 - 6:45 p.m.)—Sponsored by Circa 1886, a AAA four-diamond restaurant tucked behind the stately Wentworth Mansion, and The Wine Shop.
Vodka and Rum Tasting with Firefly Distillery (April 11; 5:15 –6:45 p.m.)—Bringing Wadmalaw Island to guests as they sample some of Firefly's gourmet rum & bourbons accompanied by hors d'oeuvres.
Harbor Boat Cruises (tickets: $45)
Guests will enjoy a panoramic perspective of the South's most historic seaport aboard the Spirit of Carolina. Cruise includes hors d'oeuvres, a wine or beer ticket, and soft drinks (April 3, 17, 20; 1:15-3 p.m.; tickets: $45).
Plantation Picnic and Oyster Roast (tickets: $45)
Guests will enjoy steamed oysters as appetizers, along with other Southern cuisine, beer, wine and soft drinks. Admission includes a guided tour of the historic house and grounds of Drayton Hall Plantation, c. 1738 (April 6 & 15; 4:30-7 p.m.).
Morning History Walk (tickets: $20)
Led by Charleston's most experienced guides, these two-hour walking tours of the Old & Historic District provide the perfect background for the house and garden tours. Private sites or interiors are not included on these tours (Mon. – Sat., March 22 – April 21; 9:15 –11:30 a.m.).
Learn more about the tours and special events of the spring Festival of Houses and Gardens at, http://www.historiccharleston.org/Festival or call, 843-723-1623.
About Historic Charleston Foundation
Established in 1947, Historic Charleston Foundation (HCF) is a nonprofit organization whose mission is to preserve and protect the historical, architectural and material culture that make up Charleston's rich and irreplaceable heritage. The Foundation is known for its preservation and advocacy programs including protective covenants and easements; education and outreach; and it is the first organization in the country to establish a revolving fund to acquire and preserve important buildings, a model now replicated in historic communities across the nation. Preservation coupled with education and outreach is at the heart of the HCF mission. This mission is supported through the generosity of preservation-minded donors, the Annual Spring Festival of Houses and Gardens, the Charleston International Antiques Show, a licensed products program, and retail shops. In addition, HCF fulfills its educational mission through the interpretation of its collections and two museum sites: the Nathaniel Russell House, c. 1808, and the Aiken-Rhett House, c. 1820.
###