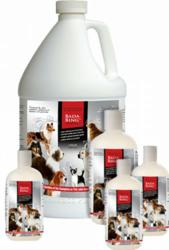 As a result of my experiences with BADA-BING Shampoo, I can't recommend it enough and I will, without a doubt, be using it on my next show champion!
Elma, NY (PRWEB) February 24, 2012
The Made In America Store now offers Bada-Bing pet products at its location. Laura LaCongo, LVT, and the owner of Bada-Bing pet products, teamed up with the Made In America store to offer consumers 100% American made pet supplies. Being a licensed veterinary technician, LaCongo puts health and safety as a top priority when it comes to her products. LaCongo is also a professional dog breeder and dog show exhibitor and those experiences and skills go towards the making of her products.
The Made In America Store Guarantees to sell Bada-Bing's 100% American manufactured pet products.
Made In America Store will carry the Bada-Bing line Pet Shampoo, which provides a deep clean for all coats of dog fur textures. The shampoo itself volumizes lifeless coats while preventing frizz and static. It also contains oatmeal hydrating agents and promotes healthy skin and coat color. There are also three specialty shampoos carried by the Made In America Store to help pets with itchy or dry skin, fleas and ticks, or management of dermatitis, pyoderma, and other fungal and bacterial skin diseases of dogs, cats, kittens and puppies over the age of 12 weeks.
The Made In America Store also offers Bada-Bing's dental solution for pets to alleviate bad breath. Along with removing plaque from the pets' teeth, it also eliminates chances of periodontists, an infectious disease caused by the buildup of plaque, leaving the pets mouth clean and fresh. Bada-Bing also makes it easy to apply, all you have to do is put the solution in the pets' water and you're done.
Finally, the Made In America Store will carry Bada-Bing's line of pet fragrances for pets.
The Made In America Store sells only 100% American Made Products, because China is a long drive to work. Every component, including the packaging, must be a quality American made product. Visit http://www.saveourcountryfirst.com for more information and a visual catalog.
# # #