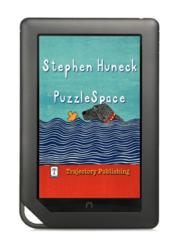 "The puzzles mirror Stephen's woodcuts, they are playful, fun and positive. Also, like Stephen's artwork, they appeal to Sally fans of all ages." - Gwendolyn Huneck
Cambridge, MA (PRWEB) February 23, 2012
Trajectory, Inc. today announced PuzzleSpace™ with the artwork of Stephen Huneck. This version of the free app has been designed to be played on Android® tablets, Android® smartphones, NOOK® Tablet, and NOOK® Color. Stephen Huneck PuzzleSpace ™ is downloadable today from the Android Market. The NOOK® version can found at Barnes & Noble.
PuzzleSpace ™, inspired by Stephen Huneck's Sally Series of eBooks published by Trajectory, follows Sally the iconic Labrador retriever throughout her many exciting adventures. Sally is a curious and fun-loving dog; she makes the acquaintance of many interesting characters and visits fascinating places along the way. PuzzleSpace ™ utilizes high-resolution digital images of Stephen Huneck's classic woodcut prints as the canvas that users play on. Users can select multiple levels of difficulty ranging from beginner to advanced. The puzzle comes to life with a dynamic, engaging and truly interactive experience.
Features and applications of the app include:

Full color, high quality artwork.
Introduce children and dog lovers of all ages to interactive puzzles, displaying brilliant color illustration by renowned artist Stephen Huneck.
Keep children entertained while they learn to slide puzzle pieces into place.
Provide the opportunity to practice matching.
Quick, easy game, the app is perfect for children learning shape recognition.
A timer increases the challenge; children of all ages will be excited to beat their best time.
A big round of applause from Sally upon completion of the puzzle.
"Education and entertainment are deep in Trajectory's DNA. We believe there is a timeless quality associated with the finest works of literature and art and we are committed to deliver these great works in the best way for people today to experience", said Jim Bryant, Trajectory's CEO.
Stephen Huneck was an internationally acclaimed painter, sculptor and printer as well as the creator of the Dog Chapel in St. Johnsbury, VT where he lived. Stephen's widow, Gwendolyn Huneck, said, "I am ecstatic by the marvelous job Trajectory did in creating the 'Sally' PuzzleSpace for Android. The puzzles mirror Stephen's woodcuts, they are playful, fun and positive. Also, like Stephen's artwork, they are appealing to Sally fans of all ages. The project is especially meaningful to me since the puzzles became a reality through the hard work of our dear friend, Jim Bryant, and his team. Stephen must be smiling. I know I am."
About Trajectory, Inc. - Trajectory is a Cambridge based technology and marketing oriented publishing company that collaborates with leading authors, artists, and traditional publishers. Trajectory has over 100 eBooks and apps in production that are scheduled for release this quarter.
Become a fan of Trajectory on Facebook.
About Stephen Huneck - Stephen created the Dog Chapel, Gallery and workshop on Dog Mountain. The chapel and gallery are open daily as are the miles of trails. His hand-carved furniture, sculpture, and woodcut prints are included in the White House Collection of the Smithsonian Institution, the collections of the American Kennel Club Library and the Museum of Folk Art, and many other prestigious museum and private collections.Become a fan of Huneck on Facebook.
"I believe art should be an integral part of life. I try to give my work an almost magical energy that makes the viewer feel good." - Stephen Huneck
Many of the images in PuzzleSpace™ were originally published by Abrams as part of the iconic book series about Stephen's beloved dog Sally. These New York Times best selling children's books include: Sally Goes to the Beach, Sally Goes to the Farm, Sally Goes to the Mountains, Sally Goes to the Vet, Sally Gets a Job, Sally's Snow Adventure, and Sally's Great Balloon Adventure and are available at a bookstore near you or online at Barnes and Noble and Amazon.
Press Contacts: Maura Phelan Trajectory, Inc. (617) 564-1550
One Broadway – 17th floor, Cambridge, MA 02141 media(at)trajectory(dot)com
###