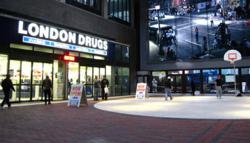 Seattle, WA (PRWEB) February 23, 2012
LiveAreaLabs has been chosen to redesign and implement the Londondrugs.com ecommerce store for London Drugs, a major Canadian retailer that's grown to 74 physical stores since the brand opened its first store in 1945.
Although the company currently maintains the ecommerce website, it seeks to create a more robust online presence that better reflects the London Drugs brand and the experience found in its physical stores. To meet these goals, London Drug has engaged LiveAreaLabs in a full service engagement that includes customer research, digital brand strategy, custom ecommerce website design, content strategy and development, SEO optimization, technical consulting and development, analytics and design optimization, and ongoing technical support.
The refreshed London Drugs.com e-store will be built on the Demandware ecommerce platform and serve both PC and mobile customers. In addition, LiveAreaLabs will create three shopping applications for cameras, computers, and cosmetics. These applications serve as a way to help shoppers find the right product for their particular needs, and will be similar to the award-winning Brooks Shoe Advisor that LiveAreaLabs created for Brooks Running.
"At London Drugs, we are committed to providing customers an outstanding experience every time they interact with us. To carry that commitment through online, we chose LiveAreaLabs to redesign and implement our Londondrugs.com ecommerce website on Demandware. LiveAreaLabs offers a unique mix of digital retail strategy, shopper-centered experience design, and deep Demandware technical expertise. Just what we need to deliver superior shopping experiences everyday," said Clint Mahlman, SVP at London Drugs.
"We are very excited to be working with London Drugs," says Mark Moskal, the CXO and cofounder of LiveAreaLabs. "The company is dedicated to making the lives of their customers easier through a great selections of products, knowledgeable staff, and a commitment to customer service. As their ecommerce and digital marketing partner, we look forward to helping them better serve the needs of their customers online."
The first phase of work is scheduled to go live in October 2012 in time for the holiday shopping season.
About London Drugs
Founded in 1945, Canadian retailer London Drugs has 74 physical stores in more than 35 major markets throughout Alberta, British Columbia, Manitoba, and Saskatchewan, as well as an online store. London Drugs offers consumers a range of products from digital cameras and cosmetics to computers and televisions. Renowned for its creative approach to retailing, the company employs more than 7,500 people with pharmacy and health care services being the heart of its business. For more information, visit: http://www.londondrugs.com.
About LiveAreaLabs
LiveAreaLabs® is a creative marketing and technology agency. We create brands people love and activate them across all digital media. We believe brands can elevate themselves through the LiveAreas® they create—places where people and brands connect through experiences people choose, share in, and promote. We partner with clients throughout North America to deliver branding, ecommerce, mobile, consumer applications, and digital marketing solutions. For more information, visit: http://www.livearealabs.com.
###