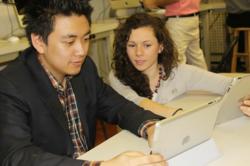 "Kids forget their books. They never forget their iPads."
-South Kent School teacher
CASTLETON, NY (PRWEB) February 23, 2012
The President of ClassBook.com, a leading provider of customizable online bookstore solutions to independent K-12 schools, will be presenting at the 2012 symposium of the National Business Officers Association (NBOA).
During the February 27-29 symposium in Seattle, WA, Tony Pfister will speak to event attendees about the accelerating trend of eBooks adoption in lieu of printed textbooks in the classroom. Of specific interest to business officers will be a case study featuring ClassBook.com client South Kent School. This remarkable story details how this independent Connecticut prep school worked with ClassBook.com to transform its curriculum and teaching methods to achieve a remarkable 92% digital adoption rate.
The presentation entitled The Movement to the Digital Classroom – headlined by Mr. Pfister – will also include remarks from Gonzalo (Gonzo) Garcia,Chief Information Officer and iPad Program Director of the South Kent School and Dan Jost, Institutional Marketing Manager at Inkling, one of ClassBook.com's partners that produces interactive digital books.
Independent school business officers will learn about the driving forces behind the movement to EBooks. They'll see the business issues surrounding a switch to EBooks and the factors they must consider in deciding when to make the switch.
In the end, Mr. Pfister says, a case will be made that a school's movement to eBooks is not a matter of if, but when.
ClassBook.com is a leading online textbook retailer founded in 1992 serving primary and secondary private schools. The Company creates flexible, customizable bookstores for each of its schools to streamline the buying process for families, deliver money saving strategies and enhance the entire learning environment. ClassBook.com is also a leader in offering eBook technology as well as iPad enabled classrooms for the most effective and engaging learning experience for students and teachers.
###