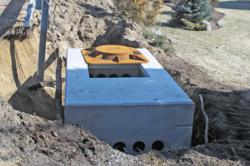 The capabilities of Shea Concrete enable us to take on this matter with peace of mind.
Rochester, MA (PRWEB) February 23, 2012
Shea Concrete, one of the largest precast concrete manufacturers in New England, has been selected as the exclusive provider of utility trenches for the upcoming runway project at Boire Field in Nashua, NH. Upon its completion, the $16 million endeavor will vastly improve the existing infrastructure of the airport by producing a newly configured landing strip. To execute the plan properly and prevent any loss of use, the construction must coincide with the ongoing operational demands.
Working in conjunction with Kobo Utilities, Shea Concrete will provide precast products that meet strict Federal Aviation Administration design requirements and safety standards, such as aircraft weight limits. "With the stringent guidelines that lie in the scope of this project, it is imperative to have a supplier that identifies and conquers those concerns," remarked Ed Bennett, Project Manager at Kobo Utilities. He added, "The capabilities of Shea Concrete enable us to take on this matter with peace of mind."
Noteworthy areas of responsibilities include:

Provide foundations for Runway End Identifier Lights (REIL) and Precision Approach Path Indicators (PAPI)
Manufacture manhole vaults for underground distribution of electrical, drainage, visual, and navigation systems between buildings and circuits
Configure and develop foundations for substations
"We strive to account for all aspects of each project that we are given," noted Greg Bates, the Operations Manager at the Rochester location. "We have the resources to handle a variety of tasks in all applications of utility trenches. This project exemplifies our continued growth and strength of our products."
Construction of the 6,000 foot runway will incorporate over 45,000 feet of pipeline and is targeted for completion at the end of 2012.
About Shea Concrete
Family-owned and operated since 1949, Shea Concrete is one of New England's largest suppliers of precast concrete products, serving both commercial and residential industries. As a National Precast Concrete Association (NPCA)-certified company, Shea Concrete's manufacturing plants consistently operate at the highest standards of production and quality control. Shea Concrete produces environmentally safe concrete products, including sewage and drainage systems, barriers and curbs, utility structures and Shea block retaining walls. Other precast concrete products include bulkhead, side entry, and standard steps. Serving all of New England, Shea Concrete is headquartered in Wilmington, Massachusetts, with additional locations in Rochester, Massachusetts, Amesbury, Massachusetts, and Nottingham, New Hampshire. For more information, please visit http://www.sheaconcrete.com.
###