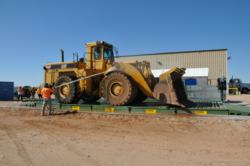 "Hydro Engineering Inc. was very good in changing the design to meet changing environmental permit requirements. Was able to adapt to our changing schedule and met our start-up needs and requirements on a fast track project", Said Todd Fayram of American
(PRWEB) February 28, 2012
Hydro Engineering's breakthrough green technologies are leading the way in which equipment is cleaned in remote environments. The Hydropad portable wash rack is perfect for companies, large or small, who are looking to comply with EPA rules and environmental laws but have neither the time nor money to construct a wash rack.
The Hydropad wash rack and its Hydrokleen recycling system captures 100% of wash wastewater and recycles it. These above ground, steel wash racks are extremely durable and environmentally friendly. All wash water captured by the Hydropad is filtered through the Hydrokleen filtration system and reused. Hydrokleen systems use state-of-the-art materials of construction and manufacturing techniques to exceed vehicle and equipment manufactures requirements for performance, durability and corrosion prevention. The recycled water is then reused in the Hydroblaster pressure washer equipment making cleaning of large or small equipment quick and easy. This technology has proved to be particularly useful in remote locations that don't have an available sanitary sewer connection.
Unlike most permanent wash racks for heavy equipment, all that is needed to set up and use the Hydropad wash rack is electric power, water, and a solid, level surface to place it on. Hydro Engineering Inc.'s products meet the requirement of secondary water containment, and do not require an architectural design. Hydropad instant wash racks rarely require a permit, never require construction, and are seen as equipment rather than a capital construction project.
"Hydro Engineering Inc. was very good in changing the design to meet changing environmental permit requirements. Was able to adapt to our changing schedule and met our start-up needs and requirements on a fast track project", Said Todd Fayram of American Bonanza .
About Hydro Engineering Inc.
Hydro Engineering Inc. is based out of Salt Lake City, Utah, and is now in its 32nd year of operation. The company is ISO9001 certified and prides itself in a top quality management system. They provide the finest in washing, collection and wastewater treatment/recycling systems to thousands of customers worldwide. Hydro Engineering Inc.'s innovative products include Hydroblaster pressure washers, Hydrokleen waste water and filtration equipment, Hydro-biodigester odor control products, and the Hydropad above ground washing pads.
Some of their commercial US customers include; General Dynamics, Union Pacific Railroad, Nike and United Rentals. Thanks to the world wide web, Hydro Engineering, Inc. is now a global company, bringing innovative green technology to countries around the world.
# # #