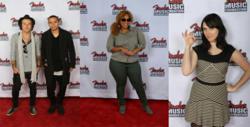 Los Angeles, CA (PRWEB) February 23, 2012
Social Hill's private celebrity lounge for the Grammy awards partnered with the Fender Music Foundation to help raise money and awareness for the cause.
"We couldn't think of a better charity to support during the Grammys, music is so important for children to be exposed to," said Bob Olejar, CEO of Social Hill.
Founded in 2005, The Fender Music Foundation was created to provide resources for music programs across the country so that kids and adults alike will have an opportunity to experience the joys of music. The programs reached by this charity include school music classrooms, community music programs and music therapy programs. Celebrities who took part in the Fender Music Foundation Grammy suite include: Grammy Nominated artist "Mary Mary," Evan Ross, Cobra Starship's Victoria Asher and singer and musician, Ryan Cabrera.
Social Hill partners with a different charity every month to raise awareness for different causes within the celebrity community. Past charities supported by Social Hill include: Operation Blankets of Love, Shoe Revolt, C5, Susan G. Komen, Little Kids Rock and Soles 4 Souls.
For More information on The Fender Music Foundation please visit:
http://www.fendermusicfoundation.org
For information on getting charity sponsorship with Social Hill please contact: Jennifer McCartney at Jennifer(at)socialhill(dot)com or visit http://www.socialhill.com
###