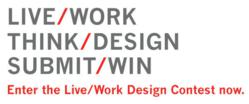 New York, NY (PRWEB) February 22, 2012
Dwell Media (http://www.dwell.com) and Design Within Reach (http://www.dwr.com), two arbiters of modern design, today announce the launch of the Live/Work Design Contest (http://www.dwell.com/live-work), which challenges up-and-coming designers to create a workspace "classic of tomorrow" – a new home-office solution that DWR could potentially manufacture and sell. Dwell will host the DWR-sponsored contest through the end of June, and the grand prize winner will be announced in Los Angeles in June at Dwell on Design, the West Coast's largest design fair.
Dwell and DWR are looking for product and furniture designs in the home-office space that employ materials of integrity and solve productivity challenges while mixing business with pleasure. "We're looking for a product or furniture idea that is destined to be a future live/work staple," says Dwell's Editor-in-Chief Amanda Dameron. "This is an amazing opportunity for an under-the-radar or established designer to see a project realized."
"Design Within Reach is focused on making modern design accessible, which includes supporting emerging designers and educating consumers about their work. For us, the Live/Work Contest represents an exciting opportunity to partner with Dwell to discover new talent and simultaneously provide our customers with a workspace solution that improves productivity and helps them tackle everyday challenges," said DWR CEO John Edelman.
Starting today, Dwell will accept online only submissions through March 31, 2012. In April, a panel of judges will select up to 10 finalists based on evaluations of both overall design and manufacturing potential. The jury will be made up of editors and executives from Dwell, DWR and WantedDesign. In May, finalists' entries will be published on dwell.com, and the public will be encouraged to vote for their favorite live/work solution. Additionally, live voting will occur at WantedDesign (http://2012.wanteddesignnyc.com/) in New York, May 18–21, 2012, where finalists' entries will be on display. During the week around Dwell on Design, five finalists' designs will be on view at DWR Beverly Boulevard Studio (http://www.dwr.com/beverlyblvd). The grand-prize winner will be unveiled on June 22, 2012, at Dwell on Design in Los Angeles.
For more information or to vote, visit http://www.dwell.com/live-work
About DWELL MEDIA, LLC: Dwell Media is the parent company of Dwell magazine, Dwell Digital + Mobile, Dwell on Design events, and the Dwell Homes Collection. Founded in 2000 by Lara Deam, Dwell has received countless industry awards and is widely regarded as a leading voice in the modern design movement. Championing a philosophy that is idea-driven and sensitive to social and physical surroundings, its enduring passion for design leads a passionate community of design-seekers to be "At Home in the Modern World."
Dwell Press Contact
Alex Polier
917.210.1735
Alexandra(at)dwell(dot)com
Design Within Reach, Inc., founded in 1998 and headquartered in Stamford, Connecticut, is the source for the best in modern design. The company markets and sells its furniture and accessories to both residential and contract customers through its retail Studios in the United States and Canada, dwr.com and its Connecticut-based phone sales team at 1.800.944.2233.
DWR Press Contact
Sarah Gould
203.614.1674
pr(at)dwr(dot)com
About WantedDesign: Now in its second year, founders Claire Pijoulat and Odile Hainaut have curated a three-day event and exhibition featuring a hand-selected group of leading furniture and industrial designers from around the world. The idea is to create a rich program here in New York, channeling their talent and energy into a weekend of conversations, design workshops, pop-up stores and exhibitions. The fair, located in Chelsea's Terminal Building, acts a central point of exchange during New York Design Week, and offers a host of convivial lounges and cafes for people to relax and connect. Visit WantedDesign at Terminal Stores, 11th avenue and 27th street, New York, May 18-21 2012.
http://www.wanteddesignnyc.com
WantedDesign Press Contact
Doug Roche
doug(dot)roche(at)camronpr(dot)com
Office: 646.213.7482
Mobile: 646.919.6089
###